What Type Of Exterior Door Is Cheapest?
Exterior doors can be made from a variety of materials ranging from steel to fiberglass or even wood. Each type of material comes with a price tag as well as different properties. But with the tight economy, homeowners want stylish doors at a low a cost as possible.
The cheapest exterior doors are often constructed using fir, fiberglass, or aluminum. However, over the long term the longevity of steel and oak doors makes them worthy of consideration for owners. The final cost of all exterior doors is also dependent on other factors such as size, frame style and quantity.  
Every time you walk into a home improvement store or surf the web for some new exterior doors, you often find yourself wondering which door will be the cheapest to install. This is not an easy question to answer because when looking at each entry's costs (and all the material that needs to be used when installing), it can vary by thousands of dollars or more!
Picking An Exterior Door
The right door for you depends on the size of your home, the amount of insulation you have, and many other factors. With so many types of doors in the marketplace, choosing the right one can be overwhelming, so you must set some priorities
You must weigh up the material, cost of installation, durability and ease of maintenance.  When you finally know what you want price will usually be the deciding factor. The good news is there are affordable yet stylish doors available in the market. Here are the exteriors doors you can find at cheaper pricing.
1. Oak Doors
Oak is a type of wood that comes from deciduous or leafy trees. Oak door prices are sometimes higher due to the intricacy of the grain. These doors have been used as a symbol of strength and protection throughout history. However, oak door prices are generally within the average price for an exterior door with cheap pricing. The most common types of oak trees that produce these doors are White Oak, Red Oak, and English Oak.
However, the good news is oak doors are affordable, making them great for someone on a budget. Oak doors also feel really good to the touch and are often the choice of homeowners who prize aesthetics.
The clean finish on oak doors also makes them easy to clean and maintain. A typical unfinished oak door will last longer than most other exterior doors before needing sanding and repainting.
Additionally, the doors have been famous exterior doors because of their durability and high quality. The solid thick oak doors are the best option for you if your home's decor is classic or modern.
2. Fir Doors
Fir doors are a type of exterior door, which has been used for decades. Having been around forever, they have a lot to prove and can do so for a very affordable price. Being common, the fir door is an excellent choice for people who want something inexpensive and durable.
These doors are made out of plywood, which makes them strong enough to stand up against the elements. While they are low-cost compared to other types of an exterior doors, they are still beautiful.
Fir doors come with a natural wood appearance. They have the versatility to take stains well, so they will match your home's entryway or trim color. As an exterior door, it is more durable and less susceptible to water damage and insects.
A fir door is an excellent option for those who want a traditionally styled door that is built for performance at a great value.
3. Aluminum Doors
Aluminum doors are one of the most common types of the exterior front door that you will find in the marketplace today. They are made out of heavy-duty aluminum that can take an immense amount of abuse.
If you want to be confident that your door will last for quite some time, you should consider investing in this type of exterior door.
These aluminum doors are the ultimate in durability. They are made of one-piece, solid aluminum construction which can withstand tremendous pressure. The variety of finishing options available to aluminum door manufacturers mean that you have the ability to have your door customized to match your exact tastes in color, texture, or style.
Aluminum exterior doors are cheaper than wood or fiberglass. The aluminum used for these exterior doors is stronger than other types of material used for exterior doors like fiberglass or wooden.
Because aluminum exterior doors are made of metal, they are sturdier than other types of exterior entry doors. The sturdiness and availability of aluminum is one of the main reasons why they're also one of the least expensive types of entry doors.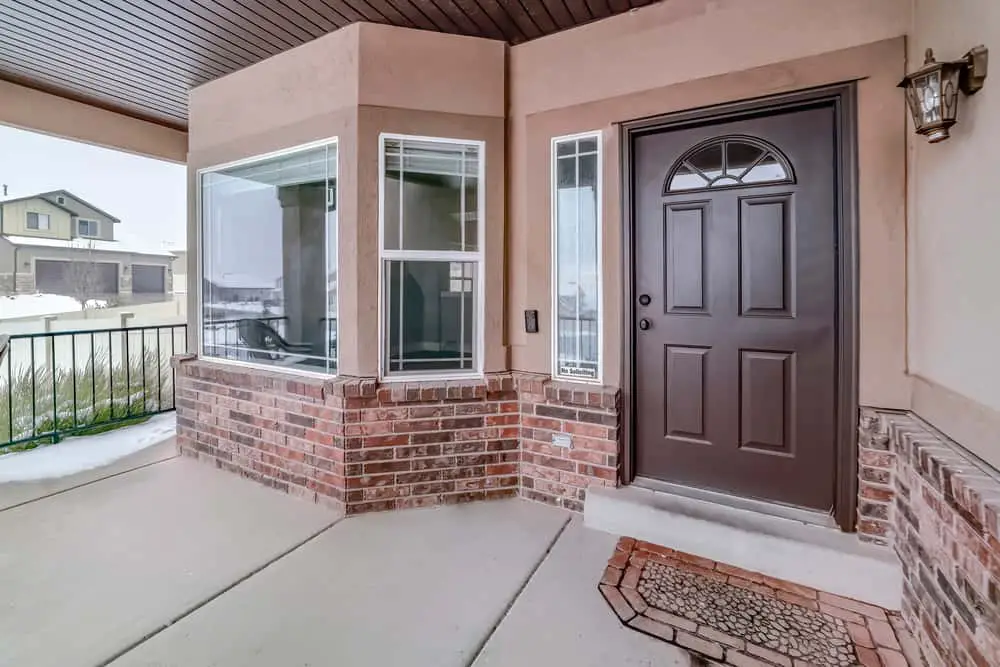 4. Fiberglass Doors
When it comes to choosing the exterior doors for your home, it may seem like there are quite a few choices to pick from. Fiberglass doors are one type of cheap exterior you can choose from.
Fiberglass doors, a type of exterior door with relative pricing, can help beautify your home or business at a fraction of the price. Fiberglass doors are a good choice for many reasons–they're energy-efficient, weather-resistant, and can be built in a custom style to fit virtually any architectural design.
Choosing fiberglass doors is an excellent option if you are looking for an exterior door with cheap pricing. This is because the material itself is lightweight, which reduces the overall cost of the door. Fiberglass also tends to be very stable, making it great for situations where your door needs to withstand high winds or other damaging elements.
Fiberglass doors are popular for their aesthetics and strength. While there are numerous models of fiberglass, wood, steel, aluminum, etc., they are designed to appeal to different styles, tastes, and budgets. They can be used on commercial or residential buildings and help add character and curb appeal to any project.
5. Steel Doors
Steel doors are an excellent option when you are planning to have a residential or commercial door on your property. Steel doors are stronger and more durable when compared to iron doors. They are energy efficient and requires less maintenance. They can provide higher levels of security, and are popular in homes, offices, and buildings.
They are available in a variety of models, including steel patio doors, steel entry, steel hurricane protection, steel fire-rated, etc. While if you look at the steel door prices, it will be less than the average price of standard metal doors.
All this security does come and a price though. The cost of a steel door, including labor, can be greater than that of a similar wood or fiberglass door, depending on the frame installation configuration and types of steel used.
In recent years, there has been a dramatic change in the pricing structure which makes steel doors an even more affordable option for customers seeking security and savings.
Conclusion
There are many options for what type of exterior door to use in your home. From solid wood to steel or fiberglass, the type of material you choose will ultimately set the style for your entire house if you have a tight budget.
Think about how you will be using this door in addition to its intended purpose, and make sure the door is aesthetically pleasing and within budget before choosing one.
Sources