Can You Put An Oven In An Outdoor Kitchen?
A fully-equipped outdoor kitchen is a major asset to any home to which it is added. There are several advantages to incorporating an outdoor kitchen into your entertainment spaces. A properly designed outdoor kitchen will give you, your family, and your guests endless entertainment for years to come.
Ovens can quite easily be incorporated into outdoor kitchens. These are usually in the form of pizza ovens powered by gas, charcoal, or wood and Kamado grills better suited to outdoor use. Electric ovens are not traditionally used in outdoor ovens due to the sensitivity of their electrical components.
An oven will be a great addition to any outdoor kitchen, and it will give you the ability to make various dishes, including pizza, roasts, bread, and even cakes. There are countless advantages to the addition of a pizza oven in your outdoor kitchen. It's important, however, to choose the right type of oven for your outdoor space that will serve all your outdoor cooking needs.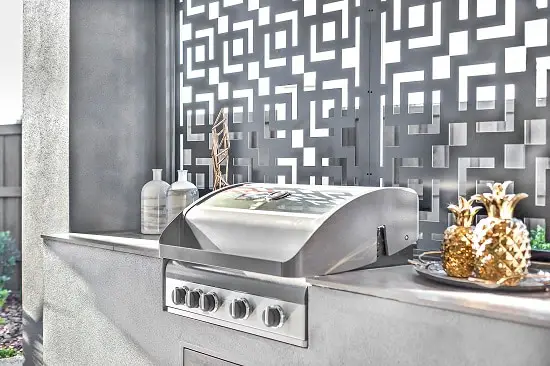 Can You Put An Oven In An Outdoor Kitchen?
An outdoor oven is a welcome addition to any outdoor kitchen. While many outdoor kitchens may have only a grill, there are several advantages to adding an outdoor oven. With an oven in your outdoor kitchen, you will expand your outdoor cooking repertoire from simple dishes on the grill to various oven-made food items that will delight friends and guests alike.
While certain conventional appliances may survive outdoors, you will have the best results from using only appliances designed specifically for outdoor use. By using a properly designed outdoor oven, you will have the best results from your outdoor cooking ventures and ensure that your equipment can last for a decent length of time.
An outdoor kitchen can potentially boast all the features of a traditional kitchen while allowing all the advantages of outdoor cooking and dining. A fully equipped outdoor kitchen will ensure you do not have to make countless trips between your outdoor space and the indoor kitchen.
With this in mind, it's usually a great idea to incorporate a washing-up sink, outdoor oven, and fridge into your outdoor kitchen if possible.
The above will naturally depend on space availability and other factors such as the budget for your outdoor kitchen. Of course, the more features incorporated into your outdoor kitchen, the better the kitchen will potentially function.
However, space and budget will always limit how many features can be added to your outdoor kitchen.
Ovens used in outdoor kitchens are not usually your traditional indoor oven but rather a specifically designed outdoor type of oven powered by charcoal, wood, or gas.
These ovens come in various sizes and specifications and can easily be incorporated into your outdoor space.
The gas, wood, and charcoal varieties of outdoor ovens are particularly good because they ensure you do not have to link up to the house's electricity supply. There is also a major reduction in smoke if you use this type of outdoor oven as well as similar style pizza ovens. .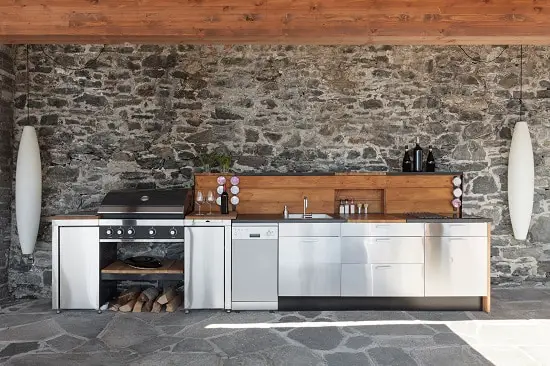 Why Do You Need Special Appliances For Outdoor Use?
The majority of traditionally indoor appliances are simply not suited for outdoor use. This is mostly due to the durability of the materials from which the equipment is made. Any cooking equipment used outdoors must be sufficiently durable to withstand adverse weather.
Any outdoor cooking equipment must be able to withstand significant temperature changes. They must also be able to withstand any adverse weather that might occur. Traditional electrical components in items like conventional ovens tend to rust when exposed to extreme outdoor conditions.
Outdoor cooking appliances must be resistant to rust to ensure their longevity, as oxidation and corrosion will cause havoc with any cooking equipment.
Another consideration is the availability of electricity. Many outdoor kitchens may not have electrical plug points. So any ovens or other appliances used in these spaces may need to operate without electricity. This will rule out electrical ovens in most cases.
The size of outdoor cooking equipment may also differ significantly from that of indoor equipment. Styling is another important factor to consider. Outdoor ovens are designed to be incorporated into your outdoor kitchen space with aesthetic ease.
Advantages Of Gas Ovens Outdoors
There are several advantages to using a gas oven in your outdoor kitchen instead of the other varieties. Firstly, a gas oven will ensure that you can quickly cook whatever you desire without having to wait extended periods for the cooking device to heat up.
This is particularly useful if you simply want to cook a quick meal in your outdoor kitchen and don't have hours to spare.
In addition, an outdoor gas oven will potentially take up less space than many other types of outdoor ovens. This is particularly advantageous if you have limited space in your outdoor kitchen.
Gas ovens are also portable in many instances, allowing you to move the equipment wherever you see fit.
The added advantage of the portability of gas-powered outdoor ovens is that you can potentially move them indoors during winter or at any other time that bad weather occurs. You can also avoid getting municipal permission to install your outdoor oven if they are not built-in.
Gas-powered outdoor ovens are also usually far easier to operate than other varieties. This means there is less likelihood of anybody in your family becoming injured when attempting to operate your outdoor cooking equipment.
Gas ovens are also able to tolerate almost any temperature. They are less likely to suffer damage due to adverse weather conditions. Outdoor gas ovens are specifically designed to withstand extreme cold and heat. Their components are made of hardy materials to ensure longevity.
Conclusion
An outdoor oven is a welcome addition to any outdoor kitchen. It's extremely important, however, to be careful about the type of outdoor oven you choose. The right oven for outdoor use will ensure that you get the best results in terms of the prepared food and the longevity of the relevant equipment.
Sources