What Kind Of Cabinets Do You Use For An Outdoor Kitchen?
An outdoor kitchen is a fantastic addition to your home. Whether you have one so you can prepare food outside where the party is at, or you prefer to be outdoors as often as possible, you want a kitchen that will last you a few years without rotting or rusting, despite the weather. So what cabinets are best suited for your outdoor kitchen?
Weather-resistant cabinets are best for outdoor kitchens. Examples of materials used for weather-resistant cabinets include marine-grade polymer, stainless steel, and treated wood. No matter which material is used, ensure the fixtures and fittings are also weather resistant.
Outdoor kitchen cabinets can be bought preassembled, built by a cabinet-maker, or made by yourself as a DIY project. They can be modern, old-fashioned, or rustic in their design, but by paying attention to some key aspects of your outdoor kitchen cabinets, you will get the most use out of them for many years.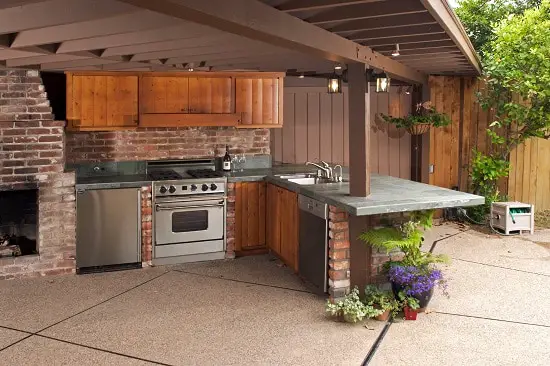 Different Kinds Of Cabinets For Outdoor Kitchens
The Internet is full of ideas for outdoor kitchens; you could have a unique outdoor food preparation space, or you can covet one and order a replica if it is sold through major stores. The only limiting factors are your budget, imagination, and possibly some building regulations (which you should check before starting).
Despite your many options, there is consensus on the top three options for outdoor kitchen cabinets. HGTV recommends marine-grade polymer, stainless steel, and teak as your three best weather-resistant options and similar for outdoor countertops as well.
Marine-Grade Polymer Cabinets For Outdoor Kitchens
High-density polyethylene (HDPE) is a marine-grade polymer praised for its weather-resisting capabilities. According to Landscaping Network, this plastic-like material is a great option for outdoor kitchens as it is UV resistant, waterproof (fresh and salt-water), and snow-proof. HDPE cabinets are less likely to warp and fade in direct sunlight.
Pros of HDPE for outdoor kitchen cabinets:
Stain resistant
Completely water resistant
Easy to clean
Does not corrode
Cons of HDPE for outdoor kitchen cabinets:
Made from petrochemicals
It might look tacky, depending on the manufacturer
Limited colors are available
Not as rich-looking as wood
Metal Cabinets For Outdoor Kitchens
Typically, stainless steel of a 304 grade is used for outdoor kitchen cabinets because it is less likely to rust and stain. Stainless steel metal looks clean, bright, and contemporary, and the chances are that the metal will match your outdoor appliances and grill, too.
Pros of stainless steel for outdoor kitchen cabinets
Matches appliances and grill
The contemporary look of metal, minus the rust
Textures and patterns are optional
Cons of stainless steel for outdoor kitchen cabinets
Difficult to keep it looking spotless (fingerprints, dust, etc.)
More expensive
Stainless steel gets hot to the touch if in direct sunlight.
Other metals that can be used in the design of your cabinets include waterproof iron and aluminum, which is rust-resistant. Home Depot sells a range of outdoor aluminum cabinets, while there are amazing aluminum modular cabinets you can view here.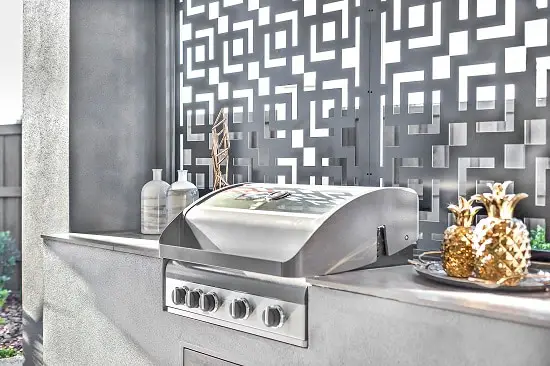 Wooden Cabinets For Outdoor Kitchens
Wooden cabinets for outside kitchens can look utterly amazing, but they are more inclined to rot and be affected adversely if not protected from the elements. If you are going to have an outdoor timber kitchen, it should be covered with a roof, and you should use marine-grade lumber. Selecting a wood resistant to UV, temperature fluctuations, and weathering is important.
The wood that is most often used for outdoor cabinets is teak. It requires proper, regular oiling or a waterproof seal to extend the lifespan of this wood. You can watch how to make your own simple outdoor kitchen cabinet from wood with this video.
Pros of wood for outdoor kitchen cabinets
You can see the wood grain
Wood has a warm and classy feel to it
Cons of wood for outdoor kitchen cabinets
Wood needs to be treated regularly, especially if outdoors
Wood may rot, fade, or crack over time
Other Ideas For Outdoor Kitchen Cabinets
Your outdoor kitchen cabinets needn't conform to the norm of HDPE, Stainless steel, or wood. You can have permanent structures that are equally weatherproof and combine different materials to get the look you want or can afford. Some of these options are more cost-effective and sturdier and can be adapted to look modern, arty, or rustic.
There are many more ideas for outdoor kitchen cabinets – your options are endless. However, if you want a more permanent outdoor kitchen with longer-lasting cabinets and structures, read on for some solid options.
Brick Structures
You can build the outer parts of your cabinets with bricks and use other materials for shelving, countertops, and cabinet doors. The brickwork can be rough or plastered, and the options for materials used for the shelving, countertops, and doors are plentiful, e.g., wood, clear Perspex, glass, stainless steel, or HDPE.
Stone Structures
Building with stone requires some skill, but masonry is not limited to only professionals. Outdoor kitchens and cabinets made of stone look solid and impressive when done well. Using local rocks or slate for building or cladding are two of many options. You can follow this link to get a guide on building a grill island with stone veneer and stainless steel finishes.
Cob Structures
Cob structures are popular amongst those who like to live off the grid and try to minimize their impact on the environment. By building your outdoor kitchen cabinet structure with cob, you can incorporate other environmentally-friendly elements for your finishes. Here are some cob kitchen ideas to contemplate.
Care Tips And Ideas For Different Kinds Of Outdoor Kitchens Cabinets
No matter what your outdoor kitchen cabinets are made of, there are certain things you should consider to keep them in good shape.
Rust-Proof Handles, Hinges, And Fasteners
If you have gone through all the effort of ensuring your cabinet materials are weatherproof, make sure the handles, hinges, and fasteners are also weather-resistant. If they begin to rust, they could stain the material or cause damage or injury to you or others.
Winterize Your Kitchen To Protect It
If you want your outdoor kitchen, cabinets, and appliances to last a few years, it is wise to protect them from the elements. If you experience harsh winters, ensure your kitchen can be enclosed or covered effectively. If you want to use your outdoor kitchen year-round, consider pull-down blinds, shutters, and a roof.
Drainage For Your Kitchen
When designing your outdoor kitchen, ensure that any rainwater will drain away from your kitchen. Puddles of water can damage your cabinets and also cause a slipping hazard. Consider using adjustable feet on your cabinets. Not only are they helpful for uneven ground, but water can drain under the cabinets if necessary.
It is wise to check for leaking pipes in your outdoor kitchen regularly. Since these pipes are exposed to the elements more than indoor plumbing, they might break more readily. Fix any leaks in water pipes as soon as possible – the leaking water can damage your cabinets or the contents stored within them.
Conclusion
Outdoor kitchen cabinets should be weather resistant to last as long as possible without rotting or rusting. Popular options for cabinets include using marine-grade plastic (known as HDPE), stainless steel, and wood. However, permanent outdoor kitchen cabinets can be made using materials like bricks, stone, or cob.
References