Do You Need An Oven In An Outdoor Kitchen?
Outdoor kitchens are popular for those who want to enjoy their guest's company while preparing a delicious meal. Cooking outside offers a unique dining experience, whether on a balcony, terrace, or garden. So, can you have an oven in an outdoor kitchen?
Ovens are a popular appliance in outdoor kitchens However they are not an essential and whether they are needed depends on the frequency of use, spae, costs, and climate. If an Outdoor oven is needed it can range from a simple barbecue grill to a top of the range oven and stove top.
Outdoor ovens are popular for people wanting to enjoy time with their guests while preparing meals. However, there are many different options of ovens, depending on the amount of space you have available, your budget, and what kind of food you enjoy preparing.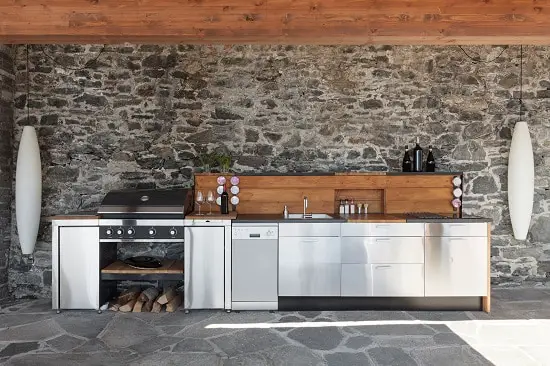 Do you Need an Oven in an Outdoor Kitchen?
This answer is of course entirely down to your own preferences and how you plan on using an oven outdoors. Some families will be fortunate enough to live in a climate where outdoor living is a year round benefit, and others will be winterizing the hot tub, pool and kitchen towards Mid October.
if you do a lot of entertaining and have an extended part of the year that has the climate to be outside then if you are building or planning an Outdoor kitchen it is certainly worth considering an oven outdoors.
Even if a simple Pizza oven which you can build yourself by the way, it adds something to the environment, keeps you in the party, and perhaps more importantly makes sure you can't forget about what's happening in the house kitchen while you are at the party or gathering!
However, if the plan for the outdoor kitchen is limited to the occasional party, or meal then adding an expensive appliance like an outdoor oven might need more thought.
If you are not going to be cooking very often or maybe just want to occasional take away pizza in the garden then it is of course perfectly acceptable to not have an oven, or to have a much more simple pizza oven, and use the outdoor kitchen as a place for drinks and relaxing rather than as a fully working environment.
What Kind Of Oven Can You Have In An Outdoor Kitchen?
An oven is a valuable addition to your outdoor kitchen because it increases your options of delicious meals to prepare for friends and family. Also, it allows you to connect more with your guests than if you were cooking in a kitchen inside the house.
In thinking about what kind of oven to purchase, you will need to consider how much space you have, your budget, and what style of food you enjoy preparing and serving.
Because there are so many ovens available for outdoor use, including gas, electric, or wood-fired, it's essential to research your options. Ovens can be expensive and require a certain amount of preparation before installation.
Outdoor ovens are popular for people wanting to enjoy time with their guests while preparing meals. However, there are many different options of ovens, depending on the amount of space you have available, your budget, and what kind of food you enjoy preparing.
Anything from Pizza Ovens, counter top grills, BBQ rigs, to full working ovens and stove tops can be built into an outdoor kitchen and it is up to you to decide if the cost will be worth the use you will get out of them over the years.
Consider Wood Fired Pizza Oven Configuration  
Not quite a halfway house between a fully working oven and none at all Pizza ovens are simpler and still useful. They also, if you have a brick or clay construction, much less maintenance intensive and will last longer than a wired in or gas powered outdoor kitchen oven.
We take a look ( briefly as we have articles all over the site you can check out here) at some Pizza oven options if you want to cook but don't need the full stove / oven / grill options in your kitchen.
Built-In Outdoor Wood Fired Pizza Ovens
Built-in outdoor pizza ovens are what most people picture when they think of luxurious wood-fired pizza ovens. Many built-in models are available today, such as the Forno Venetzia Bellagio model
Countertop Outdoor Wood-Fired Pizza Ovens
Countertop wood-burning pizza ovens are ideal for those looking for flexibility. These pizza ovens can be placed on any outdoor countertop. Like the Forno Venetzia Bellagio model, these countertop models are ideal for those renting or anticipating an upcoming move.
Freestanding Outdoor Wood-Fired Pizza Ovens
Freestanding wood fired pizza ovens combine the benefits of countertop and portable models. While you get similar benefits to countertop models, freestanding models can be placed wherever they are needed. While these can be moved while the oven is not in use, they lack the portability offered by portable models.
Portable Outdoor Wood-Fired Pizza Ovens
Portable outdoor pizza ovens are typically some of the smallest models you'll come across. These models are affordable and can be easily stowed away when not being used. Generally, these ovens can only cook one pizza at a time.
Can I Build My Outdoor Oven?
It is possible to build your own oven especially pizza oven, and we have an article giving details on this on the site as well, However the same considerations apply. If you are planning on using it regularly it would be worth your time but if its for the occasional use then maybe a portable oven, or even a take away menu! may be more suited.
Are other appliances optional in an outdoor kitchen?
The kitchen you build outside is completely your choice, and if you want to recreate your homes kitchen outside you certainly can do ( if money is no object!) However, with it being your choice it is actually very freeing.
Anything from a simple round BBQ grill to a full kitchen is perfectly acceptable, and grilling up a burger on a small charcoal Barbeque is one of the best things for me to do in my outdoor space, however if we have more than 3 or so guests and we entertain outside then we do make use of the larger outdoor kitchen for drinks and larger food.
So while all appliances are optional in YOUR kitchen, the basics of calling it a kitchen are the same as your house…. to an extent.
Somewhere to cook is useful even if the smallest of small Barbecue grills
Access to water is useful just to rinse if not wash dishes and plates
A bin ( to save spillages on the way into the house and to encourage guests to help out a little!)
A way to keep drinks cool, although this can be a fridge or icemaker these are big ticket appliances, so you can totally settle for a cooler if you want
a table and chairs, your kitchen be it large or small, is going to have to function as a dining room as well
Lights, if you use it in the evening then some good quality outdoor lights will be needed
Music / screen. this is optional but eating outside is not dinner with the Queen or King now and formality is ( mostly) not needed.
if you are still debating what kind of outdoor kitchen you are looking for we have a whole set of articles on the site to help. Some are selected for you below.
Conclusion
While cooking outside can be an enjoyable ( and let's be honest stressful on occasion) experience. An outdoor kitchen does not have to feature an oven. If you do plan on eating or cooking outdoors you can make it as simple as a small barbeque all the way up to a full working kitchen but the bonus of designing your outdoor kitchen is that you make it work for you,
Often in homes the kitchen is built for you and you are stuck, save for an expensive remodel, outdoors its your choices and preferences that matter.
if you so decide you need an oven in an outdoor kitchen then whether you purchase it or it is made at home, an oven is a practical and beautiful addition to the outdoor kitchen.
So our advice is to to take your time exploring all the different options available to make an informed decision based on your own needs.
References