17 Drywall Alternatives For Bathrooms
Bathrooms are one of the most humid places in a home. Moisture causes drywall to weaken and, eventually,  mold growth, leading to an unpleasant odor. But there are alternatives for homeowners who want their bathrooms to remain clean and free from mildew without compromising style or budget. Your bathrooms don't have to be a place of discomfort. Thanks to the drywall alternatives available, homeowners can now create a space where they can relax and unwind. These solutions are durable, easy-to-install, and provide an elegant finish for any bathroom.
Drywall is a popular material for bathroom walls in homes. It is easy to install and doesn't take much work, but it does create a lot of humidity and can lead to mold. It provides the necessary soundproofing and insulation required for bathrooms while also being an affordable option.
Below, let's look at possible drywall alternatives;
1. Plasterboard
Plasterboard (which is made of compressed paper rather than plaster)
This is a thin, lightweight board that can be used to line walls. Sometimes it comes pre-painted and already primed. It may not be a good option if you have small children because it can easily be chipped or broken. It is best used in bathrooms that are highly humid because it allows for moisture to evaporate.
You can install plasterboard sheets in any length, width, or height. It's excellent for DIYers because you don't need any special skills to install it. Since it's so lightweight, you can even use it as a temporary solution until you find a suitable solution for your bathroom.
2. Gypsum Board (Drywall or Sheetrock
These are some of the most popular materials used in homes today in North America. It's a great option because it is an affordable option and can easily be replaced if necessary. Gypsum board has a high strength-to-weight ratio, which makes it suitable for use in homes. It's elementary to cut through with a variety of tools, making it easy to install. It's lighter than Plasterboard, but the sheets are still large enough that you will require two people when installing.
3. Particleboard
This is a type of engineered wood product, and it's made from sawdust, wood chips, and even sawmill shavings. It's one of the most popular materials used for home office furniture, cabinets, and file storage. Particleboard is also used as a wall material because it's very durable. If you're looking for the cheapest possible drywall alternative, then Particleboard may be for you.
4. Tileboard
Tileboard has become a popular drywall alternative for bathrooms because it is easy to install. The tiles are held together by thin sheets of paper that you can easily cut to fit any area. The sheets are also easy to remove, allowing homeowners to paint over the surface with their preferred shade.
Unlike traditional drywall, tileboard is made from a pressed wood composite. This allows it to withstand up to 45% more moisture and humidity without buckling or warping. It also comes in various styles and patterns so that homeowners can choose one closely matching their taste or interior design plans.
5. Plywood
Plywood is excellent for bathrooms because it comes in multiple thicknesses, allowing homeowners to choose the best match for their home's current humidity level. It's also easy to cut and install, so you can use it to cover irregularly shaped walls and ceilings. Plywood is also perfect for basements, kitchens, and other damp areas throughout the home.
6. Fiber-cement board
Fiber cement board is an alternative that was designed explicitly for humid environments like bathrooms. This material is also known as the Hardie board; James Hardie Industries invented it. The boards come in various sizes and textures so that homeowners can choose their style. Fiber-cement board is widespread, and there are several options on the market to choose from.
One type of fiber-cement board is Laticrete 370, which is 50% stronger than the leading competitor. This particular product has taped seams that are watertight for quick and easy installation.
7. A green board
This is made of fiberglass and comes with a 20-year limited warranty. With a fiber mesh, a green board is an easy and cost-effective material that serves as an alternative for drywall in bathrooms. This product can be painted or even covered with fabric, wallpaper, or paintable ceramic tile. This is the industry's first waterproof green board. It's easy to install and requires less labor than traditional tile.
8. Paintable waterproof wallboard
This is ideal for use directly over concrete or block walls where moisture is present. This product does not require framing, and it can be easily painted to match your existing décor. A vital feature of this drywall alternative is its water and mold resistant.
9. Installing stone on the walls
This is an expensive option, but it does look great in bathrooms and helps keep the room's humidity down. It is another great alternative if you're not looking to break the bank. There are several types of stone that you could choose from; although some are a little expensive, it does look great in bathrooms, and it helps keep the room's humidity down.
10. A medium-density fiberboard (MDF) board
 This is used to construct interior walls. This product has a paintable surface that can also be sanded, and it doesn't swell or shrink over time. It also comes with a limited warranty for your assurance.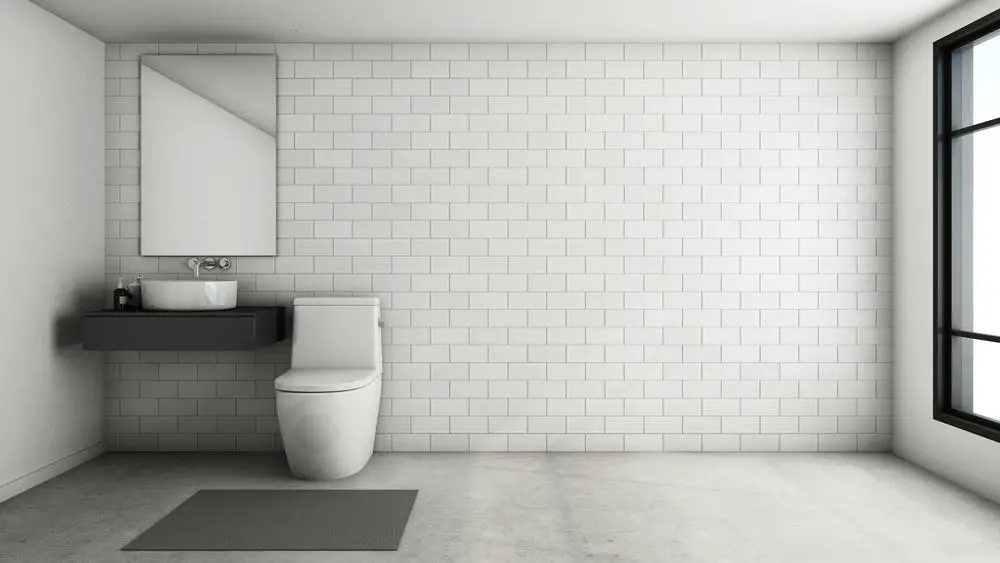 11. Wood paneling on the walls
This inexpensive option creates a fantastic scent in the bathroom. It is also easy to remove and install whenever you want. The downside to this option is that it can swell and warp in high moisture areas. This is also an expensive option, but it does look great in bathrooms and helps keep the room's humidity down.
12. Installing glass tiles on the walls
This is an excellent option because it lets light into the room and creates a great scent. It is much more expensive than other options, but it does make your bathroom look great.
If you want a sleek look when it comes to your bathroom, this is your best bet. It is also a solution that doesn't require hiring a professional to install.
13. Using metal studs or insulation board for your walls
They don't have to be covered by any kind of wall covering material at all.
It may cost more in the long run because you will have to pay someone to install the metal studs or insulation board. If you still decide to go with wall covering, make sure you use one that's waterproof to avoid getting ruined by water.
14. Using bamboo sheets
This is an easy solution that won't break the bank. These sheets are as easy as painting regular drywall, as they will need a primer and paint to look like traditional drywall. Furthermore, this is an easy solution that can be disassembled at any time, making it perfect for tenants.
15. Using wallpaper on the walls
This is an excellent option due to its low cost and wide availability of many patterns and designs. However, the paper does tend to start peeling off of the wall after about ten years.
16. Installing corkboard on the walls
This is a good option because it breathes very well and prevents mold from growing. It also creates a better sound barrier. It is not the best option in bathrooms because it can soak up too much moisture, but this is an excellent option if you are okay with that.
17. Installation of tile spaces for airflow
This also creates a great sound barrier and is easy to remove if you need to take it down. Also, this solution allows you to keep the humidity of the room down. This is also a much more expensive option when compared to other drywall alternatives, but it does have the ability to last longer than other alternatives.
Using these alternatives will prevent mold from growing by keeping the humidity of the room down. They cost more than regular drywall, but they can last longer and create an excellent look for your bathroom.
Conclusion
There are many non-traditional materials available today that offer excellent solutions for these tricky spots around your bathroom. If you are looking for an inexpensive method of soundproofing your bathroom, then this article may prove helpful to you. If you are interested in learning more about drywall alternatives for bathrooms, contact us.
Sources