Why Would You Put Drywall Over Drywall?
Drywall is an essential part of your wall as it serves as its shell. Your drywall is there to both protect and cover your utilities (such as pipes and wires) while serving as a base for your finishes and other fastened objects. The question now is if adding another drywall over your current one will provide additional benefits in this regard.

It is possible to put drywall over drywall if you need extra protection for your fixtures. Drywalls, such as gypsum boards, already provide benefits such as fireproofing, moisture protection, and acoustic dampening. Adding another layer of drywall over old drywall can give you a fresh surface to work with and finish for a cleaner look.
Aside from the technical benefits that drywall provides, you can also put drywall over drywall to reinforce finishes. Trim, for example, is a finish that would benefit more from a double drywall installation since you're giving more material for it to attach to and more varying thickness.
How do you put drywall over drywall?
Hanging drywall is an inexpensive and easy DIY project that you can knock out in a day. You don't need any heavy-duty tools, nor do you need any special skills to get it right. All you need is to plan out how your drywall will be cut into pieces to fit into your wall's frame and make space for openings. Here's how installing typical drywall goes:

1.  Planning
You need to know how much drywall you're going to need to cover up your room. Drywall is sold in boards that measure 4 x 8 feet. Measure the space and find the total square footage of your walls and ceilings. You'll need to consider any openings that you'll need to make. You should still include them in your computations, as having a bit extra is always a good thing.
2. Fastening
Once you've got your drywall sheets, you can now begin to fasten them to your walls and ceilings. It's best to start with the ceiling and work down to your walls. Make sure to attach the drywall sheets directly to studs, in spacings of around 1 foot apart. It's okay to have a bit of excess sheet sticking out as they can be trimmed later. Do not fasten your board in places where you'll be making openings, such as windows or doors.
3. Cutting
You'll need to cut open holes for your lights for your ceilings and openings on your walls for your windows and doors. This is typically done after your sheets have been fastened, and it's vital that you haven't screwed any nails near the areas you intended to create openings on. For this, simply draw out the needed cut that you'll need to make and cut it out using a rotary cut tool.
4. Finishing
You will now have to clean and smoothen any imperfections to your current installation, and we're now preparing your drywall to have finishes applied to it. Regardless of what finish you plan on putting on your drywall, you'll need to apply primer to it to smoothen out the material and make it easier for finishes to latch onto your wall.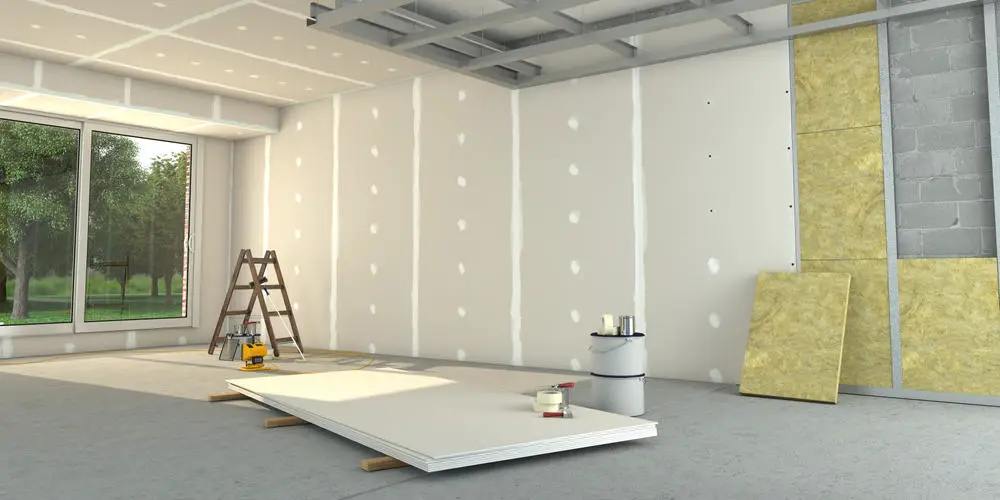 What's the difference when hanging drywall over drywall?
The exact process of installation that we laid out in the previous section of this article is the same for hanging drywall over drywall. Of course, there will be some differences that you need to consider first.
Proper alignment is essential for double drywalling. It's much easier to do this if you're installing your second drywall onto a newly installed drywall.
If you're installing over old drywall, you'll need to locate the studs and work off there. You can do this by using a stud finder device.
Any lights, electrical outlets, and openings (such as windows and doors) will need opening on your second drywall. The tricky part here is that the second layer of drywall will need to match the first one cleanly.

You'll need to remove your lights, electrical outlets first before you can install the second drywall.  Since your wall's thickness will be increased, how these fixtures are attached will need to be considered for them to fit snugly.
The thickness of the new drywall
If you're just going to touch up the look of a room rather than the additional benefits, you can use thinner drywall and apply finishes over that. It may seem impractical to install new drywall over your old one, given that you can just retouch the deteriorating finishes but hanging a new drywall gives you a completely new look.
Suppose you're installing new drywall on textured finishes such as knockdown, orange peel, and the like. You'll need to clear out these finishes first because they will end up creating gaps, which can allow moisture, water, and other elements to seep into your walls.
Doubling the thickness of your drywall is also a viable option if you'd rather skip the tedious process of having to install drywall twice. Double thickness can provide the main benefit if you need more material that your fasteners (nails, screws, etc.) can latch on to. Putting drywall over older drywall is the only time wherein you are required to repeat the process. 
No standard or code requires you to use the same type of drywall together. Certain drywalls are more fireproof, while others are designed to dampen sound. Although it may help to make it more consistent in terms of installation, there's no reason why you can't match these different types of drywall together to get all of their benefits for your spaces.
Conclusion
Hanging drywall over drywall is usually done to create a fresh new finish for a space. Based on the material, drywalls can provide benefits that range from fireproofing, moisture protection, and sound dampening. The process of hanging new drywall over an old one will be a bit more complicated since you can't see the studs, and you have to be more delicate around openings.
Sources