Which Color Is Best For Balcony Walls?
Fortunate indeed are those that can walk out of their home and onto their own balcony, a rare luxury in the denser areas of our cities. At present, fewer than 11% of Manhattan apartments have this private oasis, although Europe embraces balcony-time far more, with 37% of apartments so decorated. This personal space opens a veritable world of color options. So lets take a look at the best color for balcony walls.
Apart from white, these colors are the best for balcony walls:
Yellow – warm, friendly, and welcoming
Earthy – warm, neutral tones invite relaxation
Blue – clean, pristine
Green – crisp, inviting, fresh
Dark Grey – bold, requiring comment
Red – brave, rich, sensual
Orange – exciting, lively
Stepping outside your home on a cold winter's morning into crispy sunshine on your balcony is a wonderful experience. It gives you that feeling of privacy as you survey the world below. Equally enjoyable is basking on the same balcony in the heat of the summer sun. Despite the joie de vivre, your senses will be enhanced by an attractive paint color but threatened by the wrong one.
Yellow Balcony Walls
If you're in the northern hemisphere, as many of us are, you will welcome the first warm rays of spring's sunshine with open arms, and a good addition is a buttery-yellow color scheme. This will enhance the feeling of warmth and provide an excellent backdrop for your planters, both standing and hanging.
Yellow is welcoming and warm and works well with almost every décor scheme, from Provençal to formal. It works perfectly with a cheap table and wobbly chairs or a setting straight from Conde Nast. It is also bright and light so if you have a smaller balcony it can make it feel larger.
If you live in a cold part of the world, bright colors like yellow also add a little color to those grey days, and it the reasons why if you head to places like the North of Sweden, Norway or St Johns you can see brightly colored houses, and their balconies all around the small towns. Sometimes in those places with light sunlight you need to improvise a little!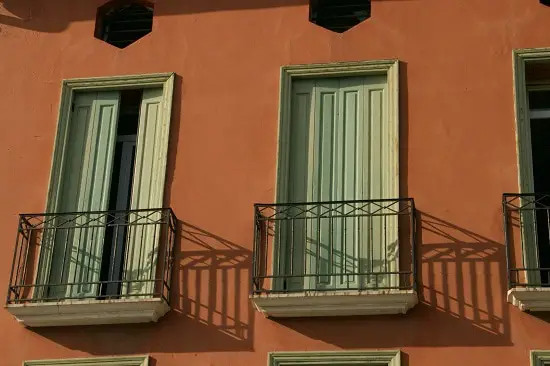 Earthy Balcony Walls
Accentuate the rustic vibe and tranquility of any wooded accents like doors, window frames, or a deck with earthy tones. Your choices are endless, from deep, decadent chocolates, hazelnut, biscuits, and fudge to crispy creams, or even better, a combination of several.
Earth tones draw in from nature, and distressed accessories, whitewashed furniture, driftwood, and birdhouses work in excellent harmony.
Best in Places with lots of Sun, to adsorb some of the bright light you "suffer" all year round, also absorbs heat and helps to reduce temperatures. We also have an article on how to shade your balcony from the sun here. Just make sure the shadings options match the color you are choosing.
Blue Balcony Walls
If your balcony is at the coast, chances are your rails, door frames, etc., will be made from aluminum or a chromed metal to combat the issue of rust. Nothing goes better with this than shades of blue, from a bold – almost black – navy through the mid-tones to aquamarine, all of which will draw on the nearby ocean to create ambiance and peace.
Accessories are endless, and hours spent enjoying beach walks will bring an array of driftwood and other items washed up on the shore. Wicker and cane furniture will add warmth and comfort, and a calico umbrella for shade will complete the tableau.
Any time in a tourist shop near the coast will let you know that white is paired with blue almost exclusively it can seem, so some thought to some splashes of white will take the edge off an all blue balcony!
Green Balcony Walls
The crisp freshness of a minty green wall with white accents – window frames, etc. – is incredibly enriching when applied to a balcony. It can be exquisitely minimalist, allowing for good breathing space and the creation of fresh ideas without the clutter that stifles creativity.
A simple coffee table and chairs work wonders to complete this setting but should also be simple and not overstated.
Darker greens can be trickier and are usually heavily decorated with pot plants to create a scene like a forest clearing. Peaceful and cool to the eye but be careful of making it too dark.
Dark Grey Balcony Walls
Dare to be different. If your balcony is relatively large, consider a color that is far removed from the norm, and incorporate a dark grey. This creates a mysterious setting and will seek to dominate, so use simple tones of cream or white to balance the picture.
A standing lamp with a white shade is ideal, and I would suggest adding a small amount of a third color to complete the scene – a pair of topiaries, perhaps, whose dark green leaves would set off the accessories to perfection.
It will certainly look more modern, but trends and fashions change so be aware of this and keep a pot of different colored paint handy just in case.
Red Balcony Walls
Red in any setting is a very bold statement and can fall flat if not executed correctly. On a balcony, it requires careful planning to not appear tacky but can be an excellent color choice.
Dark furniture works very well, as do brass accessories and heavily-patterned rugs. Persian or Turkish are readily available and will cause the effect of the balcony to rocket. In an informal setting, add scatter cushions and small occasional tables.
A formal setting might have a chaise-longue or a traditional dining table and chairs, all dark in color. Rather than bright blood red, which might set the wrong tone, maybe consider darker shades to take off the edge.
Orange Balcony Walls
On a balcony, orange speaks of adventure, freedom, and an openness of spirit. Orange works superbly well with wooden furniture and accessories and equally well with the metals:
Pewter
Brass
Copper
Aluminum, etc.
You might add a colorful hammock, Japanese futon, or simply scatter inexpensive cushions all over in an orange setting. It's a fun, vibrant color and expects life to be lived to the full.
Orange will also give a terracotta feel, or a Mediterranean feel to your balcony if desired.
How Do You Paint A Balcony?
Decorative Paints
Decorative paints can add an extra dimension to your balcony, which adds value to your home. A stucco finish or several other trowel finishes adds drama to your paint job, regardless of the color, and may contrast nicely with the rest of the home.
These textured finishes offer a welcome contrast to the rest of the home and are low maintenance and very practical. Once you have decided on the paint technique – or lack thereof – that you will employ, there are other aspects to consider:
Railings & Floors
Furniture and Accessories
Railings and floors should be sanded down if wooden and wiped thoroughly to remove excess dust. If painting a darker color, a good tip to save some cash is to paint with an undercoat first.
This is usually white and is the cheapest due to the lack of pigment. Then add your color: If PVA, you can go straight ahead, but enamel paint should be mixed with 10% paint thinners.
Subsequent coats can be painted on neat. I recommend painting three coats on top of the undercoat if working on balcony railings and floors. They are permanently out in the elements, and sun and rain play havoc with anything wooden, so protect them from the outset.
If you plan to leave them unpainted, you will need to sand them down as before. Purchase a good quality varnish from your local dealer and apply three to five thin coats. Painting varnish on too thickly will result in bubbling and cracking, so save yourself the hassle.
Furniture and other wooden accessories should be protected in the same way if left outside permanently.
Conclusion
If you have a balcony, you are in the minority, so take advantage and enjoy yourself with the colors you choose. Very few colors don't work with some effort, so put that effort in and enjoy your balcony.
References