What Kind Of Pillows Can Go Outside?
Pillows are decorative objects that complete an interior space like no other. They make everything look better. You find them in homes on beds, chairs, and couches. If you were looking for inspiration for outdoor décor, you probably came across designs with pillows. If you are thinking about it, you're probably wondering, what kind of pillows can go outside?
Pillows made specifically for the outside with thicker materials, fade-resistant fabric, and waterproofing are best to use outdoors. They contain synthetic fibers, polyester, acrylic, and cotton blends. Chemicals in the fabric withstand weather conditions preventing stains, mold, and mildew.
It is best to use pillows made for the outdoor world, outdoors. They are more durable and last longer without damage. You can use indoor pillows outside, but the cushions must first go through a few steps. There are also factors to look out for when choosing pillows for outdoors. We dive into that below.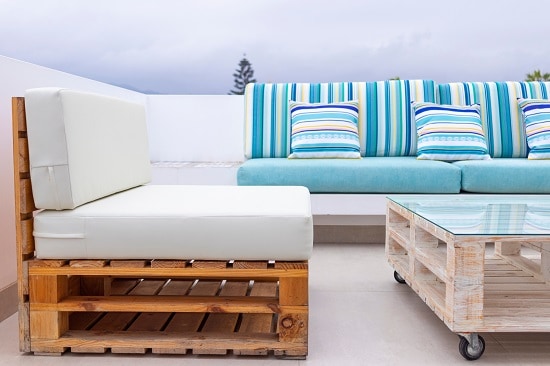 How To Choose Pillows For Outdoors
When buying furniture and decorative items to use outside, especially those that have fabric, you have to carefully consider the characteristics of those items before making your purchase. You want to look for items that can last as long as possible and withstand the outdoor climate. 
Below are some tips to focus on when choosing pillows for outdoors:
Comfort of Material
When choosing pillows, you want to ensure that one of the first things you consider is the comfort of the materials. Like a sleeping pillow, you want to ensure it is soft yet sturdy. You want to be able to relax against it without sinking. You also want to look at smoothness and puffiness. It is essential if you will be using the pillows. The material won't matter much if it is only for décor purposes.
Durability Of Materials
The durability of the pillows is crucial when choosing outdoor cushions. If you buy a pillow that will fade with the sun or get moldy with the rain before you even have time to enjoy it, that is not worth it. Look into the material and fabrics used on a pillow before buying them. It should withstand weather changes and natural elements like sunlight, rain, and wind.
Weather Conditions
Weather conditions go hand-in-hand with durability, but the specific weather conditions in your city/area and the current season are something to consider. If you leave your pillows out all the time, they should be durable enough for your climate if that means you get a lot of rain. If you live where the heat is excessive, like in a desert, your pillows need to withstand the extreme sunlight. We have an article on the best waterproofing for outdoor cushions here the site.
Price And Warranty
Decide how much you can budget to spend on outdoor pillows because they can be significantly more expensive than indoor pillows. Find out if your store offers a warranty in case your pillows start to deteriorate after a few months. Look for sales or DIY your outdoor pillows (we discuss this in the next point).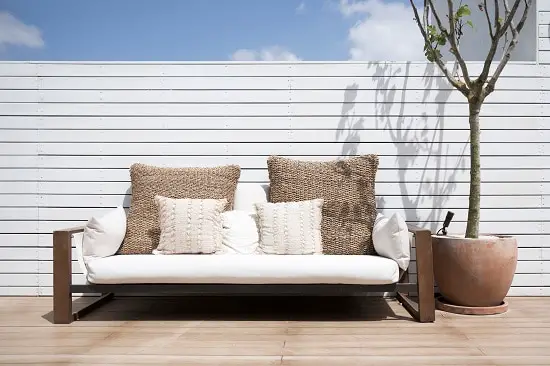 Can You Use Indoor Pillows Outside?
You can use indoor pillows outdoors. They will most likely not be as durable as outdoor-specific cushions, but you can make them work and last for a long time using a much more affordable option.
Here is how you can do that:
Waterproof Your Indoor Pillows
Pick up some Scotchgard from your nearest hardware store and spray your pillows with the heavy water shield type at least twice. It dries super-fast, is quick and easy to do, and works like a charm. You can use your indoor pillows outdoors through changing seasons.
While waterproofing is a brilliant way to repurpose indoor pillows, it will make the cushions water-resistant but not 100% waterproof. You can reapply Scotchgard every two to three months to reseal the fabric. You can use a different brand of waterproofing spray; however, Scotchgard is recommended for its quality.
Take Your Pillows Inside
One of the best ways to save your pillows from damage, fading, mold, and tearing is by taking them inside. Whether you have waterproofed them with Scotchgard or not (you should do this anyway for more safety), you should still carry them inside when you are done with the cushions. 
Only take your pillows out when you need to use them and leave them outside for the duration you will be outdoors enjoying them. When you are done, take them in until the next time you need to use them again. You could also get some climate-safe storage for outside and pack the cushions in there.
The Best Filling For Outdoor Pillows
When choosing outdoor cushions, you have to consider many aspects, including the stuffing of the pillows. If the fabric is waterproof, you don't have to worry about the filling; however, if you want maximum protection and durability, it is always best to take as much precaution as possible with the overall materials.
You want to get pillows with high-density polyurethane foam. It holds shape better than other kinds of stuffing. The fabric will need to be waterproofed because polyurethane foam does absorb water.
Open-cell foam is another option and is more water-resistant. Many people recommend the open-cell foam because of its resistance to absorbing water. It is a lot more stiff and rigid, so think about that when you are considering comfort.
The Best Fabric For Outdoor Pillows
More than the importance of choosing the appropriate pillow filling, you need to select the correct fabric. The fabric will protect the entire cushion, and the stuffing will be safe if it is waterproof. The best material for outdoor pillows is polypropylene. It is made to withstand all the natural elements like extreme temperatures, water, humidity, harsh sunlight, and even stains from food and drinks.
Take a look at the list of fabrics and different materials that work well for outdoor pillows with their benefits:
Polyester Pillows
Water-resistant
UV-resistant
Fade-resistant
Scratch-resistant
Mold and rot-resistant
Lightweight
Easy to clean
Vinyl Pillows
Water-resistant
Inexpensive
Easy to find at retailers
Easy to clean
Lightweight
Cotton/Canvas Pillows
Has the softest material
Breathable
Variety of designs and colors
Cotton pillows are not water-resistant. You should store them indoors or waterproof them with Scotchgard.
The most common fabric that generally gets used for outdoor pillows is polyester. It has a well-balanced list of features and benefits and is the most durable for long-term use. It has style, is soft, and still provides excellent performance and comfortability.
Should You Take Your Outdoor Pillows Inside?
As we have discussed earlier, taking your outdoor pillows inside will preserve them longer. It doesn't matter whether your cushions are waterproof; eventually, they will start to fade, tear, and possibly get moldy with water and humidity. 
The safest way to increase the durability of your outdoor cushions is by taking them inside after using them. Always place them outside only for the duration you will need them. If you have a BBQ party, enjoy the pool, sun bathing, or just relax on your patio with a hot or cold drink and a good book, you want to take the cushions in as soon as you head back indoors. 
When you take your pillows inside, you protect them from unexpected rain, hailstorms, angry wind, harsh sunlight, and other conditions that could cause wear and tear. The other option is to get climate-safe outdoor storage if you don't want to keep the pillows inside. That will keep the pillows safe from any conditions that might occur.
You may be unaware that there ar ways to make outdoor cushions and pillows more comfortable. We look at how this can be done in our article on making outdoor cushions more comfortable here.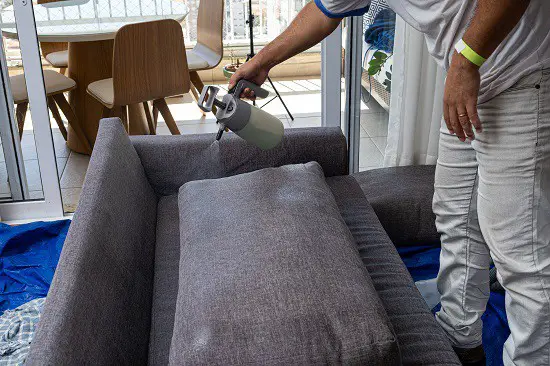 How To Waterproof Your Outdoor Pillows
We have talked about waterproofing your pillows for outdoor use and their benefits. Now let's discuss how you can get the job done step by step:
Step 1: Clean your pillows
If you buy new pillows, this step might not be necessary unless you choose it. Pillows can be dirty from the store, especially if they don't come wrapped in plastic. If you are repurposing pillows, wash them all well or do steam clean to sanitize and clean bacteria. This will make the cushions safer to use and look cleaner and brighter.
Step 2: Prepare your spray area
Lay down a large bin bag, painting mat, bedsheet, or moving blanket on the table or floor where you will spray down your cushions. This step will ensure you protect your surfaces from overspray.
Step 3: Prepare the pillows
You want to lay only one pillow down at a time. Avoid spraying a few pillows at once to ensure you get a more even job done. Set the pillow you will start with down and move the other pillows away from the area. If you washed the pillows, ensure they are entirely dry before you start spraying.
Step 4: Spray the pillows
Hold the Scotchgard Waterproofer about 8 inches from the pillow, and spray. You want to continue spraying the entire cushion until you notice it is covered in spray. It should not be soaked or saturated by the spray.
Step 5: Wait 24 hours and repeat
Give the pillows 24 hours to dry. Repeat the process apart from washing the pillows. You want to spray it down again until it is well coated and allow it to dry for another 24 hours. Once both coats are applied and completely dry, you can test the pillows.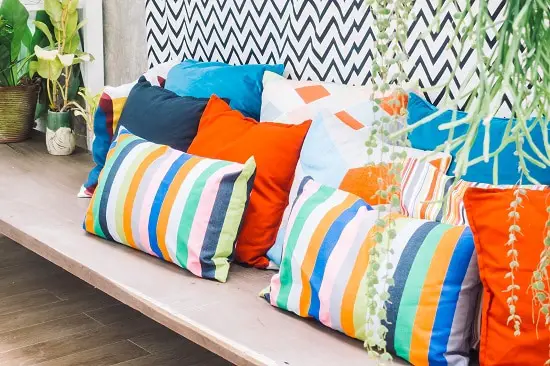 How To Care For Outdoor Cushions
Yes, even outdoor pillows need TLC. Just because they are outside and naturally exposed to dirt and wind, etc., it doesn't mean you should not clean them. You want to prevent them from getting damaged in the first place. You might not be able to protect them from dirt, but you can take steps to ensure you look after them as best you can.
It is impossible to protect your pillows from the natural elements, especially when using them. If you enjoy a beautiful hot summer day pool party and BBQ with family and friends, the pillows will be in the sun because you will be using them. There is no avoiding that unless your entire area is well shaded (even though the glare can still affect the situation).
Your outdoor pillows will be water-resistant, fade, and stain-resistant, but they are not invincible and will not last forever. If you use your patio or outdoor swing that holds your cushions frequently, it will make sense to keep them out most of the time. We recommend you take them in at night and bring them out before you are about to use them again.
During vacations or snow seasons (if you live in an area where it snows), you probably want to pack the pillows in storage bags. You can vacuum seal them to best preserve them. Sealing them airtight will prevent bugs, color fading, and storage yellowing. Always ensure they are dry and clean before storing to avoid the growth of mold and mildew.
Cleaning Your Outdoor Pillows
Have a regular cleaning routine for your outdoor pillows. Wipe them down after each use, and dust them with a soft bristle brush to keep away sand, leaves, and debris. You can use a handheld vacuum to remove the dust if you leave them out for a long time and they get dusty. 
The more exposed your outdoor cushions are to weather changes and elements like wind and rain, the more you need to clean and care for them. If you have vinyl pillows, you should spot clean them to avoid spoilage, but fabric like polyester, cotton, and canvas can be machine washed. Always double-check the label before deep cleaning your cushions in the washing machine.
Change Your Outdoor Pillows Covers
Another fantastic way to take care of your pillows and prevent them from getting spoiled is to change the covers regularly. If you love seasonal décor or want to keep things as clean and protected as possible, change the pillow covers regularly. Doing that will prevent one pillow from wearing out too quickly, and you can alternate and reuse your covers for a long time. if you need to replace your cushions you can take a look here
Conclusion
You get special outdoor pillows made to be durable and withstand the elements of nature and weather changes. They are waterproof, fade and stain-resistant, and are typically thicker and more rigid. You can use indoor pillows outdoors by spraying them with a Waterproofer. 
References