What Kind Of Patio Furniture Is Most Durable?
Patios make excellent outdoor entertainment spaces, and you'll need comfortable furniture so you and your guests can relax and enjoy the outdoors, but you'll want that furniture to be durable. Because patio furniture is exposed to the elements, it's a good idea to choose furniture that can withstand the weather and is easy to keep clean. I've discovered the hard way that some furniture marketed for patios only lasts a few years, so I've made a list of the best options for your durable patio furniture needs
Outdoor furniture needs to stand up to the elements and should be easy to clean. The outdoor patio furniture which has proven to be most durable are those made from aluminum, hardwoods, synthetic resins, and High-Density Polyethylene. Materials should resist wear and be heavy enough not to tip in winds.
If you've made the mistake of buying patio furniture that looked good, only for it to be near useless and impossible to clean after only a year or two, you'll know that there's nothing simple about choosing good outdoor furniture.
The materials that suit you will vary depending on your budget, the aesthetic you're going for, and the kind of weather you get. I've dug into the pros and cons of different patio furniture materials, so you can get a good idea of the most durable patio furniture to suit you.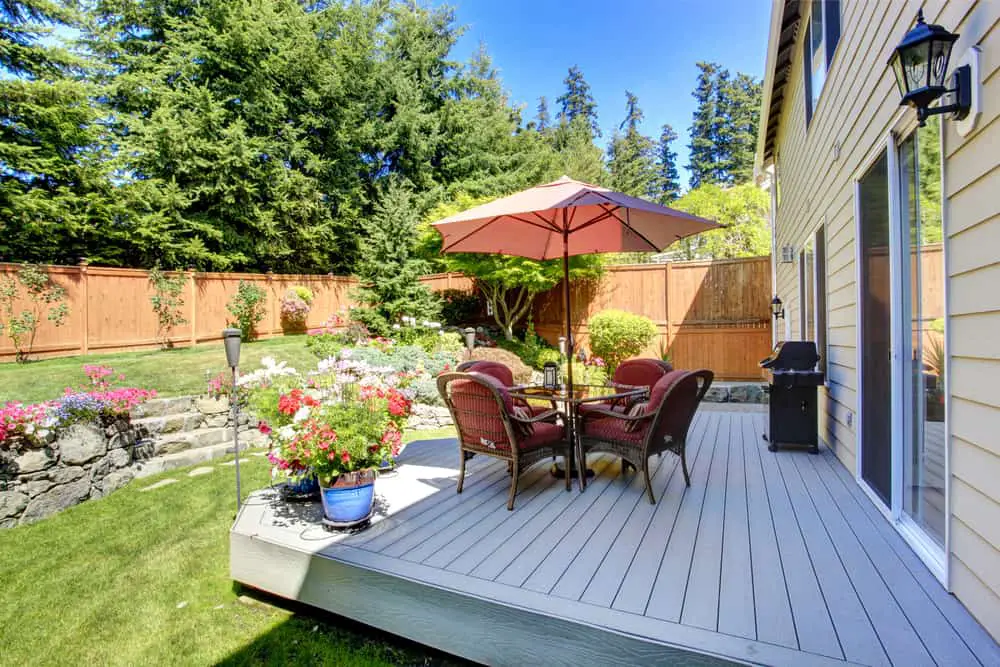 What is the Most Durable Kind Of Patio Furniture?
Patio furniture is meant to be used outdoors and is generally made of more durable material than indoor furniture. When buying your next furniture set for your outdoor relaxation and entertainment area, you'll want to look at several factors.
The best furniture is solid and sturdy so that it won't fall over in winds, made from materials that resist rust and mold, are easy to clean, and fit your taste and budget. Avoid furniture that will warp easily or fade and crack in the sun. If you live somewhere that warm and sunny, you'll want to avoid furniture that gets too hot in the sun.
Popular material choices for patio furniture are metals, woods, synthetic materials, and concrete. Each of these materials will have pros and cons, and we'll look at the most durable options in each category.
Durable Metal Patio Furniture
Metals are durable and strong, making them popular choices for patio furniture; however, metals have different properties, and some may suit you better.
Aluminum
Aluminum is very often used for strong, lightweight patio furniture. It's durable, but easily worked, allowing for various styles and shapes. If you're looking for patio furniture that is relatively low-maintenance, easy to clean, and will not rust or warp, then aluminum is a fantastic choice. It is also inexpensive, especially compared to wrought iron.
On the negative side, it will retain heat, which will make it uncomfortable to sit on. It's recommended that you buy outdoor seat cushions with aluminum patio furniture. Aluminum is a metal that is lightweight, making it easy to move around – a pro if you like to shift your patio set-up around often, but a con if you live in a windy area.
If you plan to buy aluminum patio furniture for use in the coastal zones, I suggest buying sets painted with powder coating to help prevent salt and rust damage and keep color from fading.
Wrought and Cast Iron
While wrought iron furniture has been popular for decades because of its durability, it can be prone to rust and challenging to clean if the ironwork is very intricate. Wrought and cast iron (cast-poured instead of hand-crafted) are available in classic designs. Modern cast iron furniture is usually treated with finishes that resist rust and weather damage.
However, iron furniture is weighty – suitable for windy areas, but less so if you need to move furniture regularly – and the iron retains both cold and heat which can make it uncomfortable to sit on in extreme weather.
Cast iron will be weightier than wrought iron, so consider this when choosing between the two. Iron furniture will cost more than aluminum, and if you choose hand-crafted wrought iron, it can be a rather expensive option.
Durable Wood Patio Furniture
Wood is timeless for people looking for a natural and elegant solution for patio furniture. For outdoor furniture, wood blends in with the garden and outdoors and provides robust chairs and tables.
However, when choosing the type of wood, you need to be careful as some woods decline quickly when exposed to the elements. While softwood furniture is acceptable indoors, you need to look at hardwoods when looking for durability outdoors.
Because they take longer to grow, the dense hardwoods such as teak and oak are more expensive than their inexpensive softwood counterparts like pine and fir. Woods usually need to be treated to retain their color and avoid rot and warping. Still, hardwoods like acacia can also be left to fade to stunning natural silvers and greys, which may be more in keeping with your style, particularly in a coastal beach home.
Eucalyptus
Eucalyptus is a durable wood and fast-growing despite being a hardwood, making it a more inexpensive option. The natural oil helps it resist insects and rot, and if left untreated, eucalyptus fades to a beautiful soft silver. Eucalyptus is not the best choice for patio furniture in coastal zones where borers can attack it, and in this case, it is best treated with a proper sealant.
Teak
One of the more expensive hardwoods, teak is a highly durable hardwood and one of the most popular choices for wooden patio furniture. Teak has a very high oil content which helps protect it from the weather, insects, cracking, warping, and rot. It's relatively low-maintenance, and some occasional oiling will keep it looking stunning if you wish to retain the deep honey brown color. It can also be left to fade to a natural gray/silver.
Teak is a long-term investment as it will last for 50 years, but this is reflected in its high price.
Durable Synthetic Patio Furniture
You may love the look of wicker patio furniture. But, unfortunately, natural wicker is not an excellent choice for outdoors. Most wicker-look patio furniture is made from a synthetic polyethylene resin to avoid the problems of rot and damage.
There are also patio furniture options made from recycled plastic to encourage eco-friendly choices.
Resin
Resin is a fantastic choice for outdoor furniture as it is straightforward to clean, resists extremes in weather, and is lightweight and easy to move. If buying resin furniture, ensure you buy higher quality products as low-quality resins are more likely to crack and fade.
Resin furniture can look almost like natural materials or colored in bright tones, making it a good option for a wide range of looks from organic to modern and bright.
High-Density Polyethylene can be used to make outdoor and patio furniture replicating the look of lumber, allowing a wide range of styles.
Recycled Poly Lumber
An excellent choice for the environmentally conscious, poly lumber is recycled from waste products such as shampoo bottles and milk jugs. Recycled plastic is known to be one of the most durable materials for outdoor patio furniture and can resist spills from corrosive liquids and fading from the sun. You don't need to treat your HDPL furniture with stains, paints, or oils, which keeps it low-maintenance.
Any mold which may appear is easily cleaned with a water and bleach solution without damaging your patio furniture.
You can buy poly lumber furniture in various styles, but if you're in a windy area, avoid the lighter options and opt for the heavier Adirondack styles, which are less likely to blow over in heavy winds.
Durable Concrete Patio Furniture
Concrete has become somewhat less popular these days. However, it is still a sturdy option, and concrete furniture can create a lovely weathered and natural look in a Mediterannean-style patio. Concrete is very heavy, and it's best in situations where you have no plans to move furniture around.
Concrete patio furniture will endure the harshest elements, making it practical for windy environments; it can put up with lots of use without damage and needs little care or maintenance. If you love the minimalist look of concrete, you can also pair it with tempered glass table tops.
Concrete and steel patio sets can be expensive but have a sleek modernist look and will last for many years.
if you are looking for when to buy patio furniture for the best price we have an article here and linked below.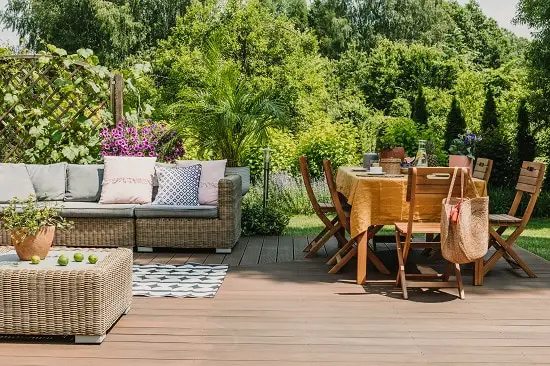 What Is The Easiest Patio Furniture To Keep Clean?
If you're concerned about keeping your patio furniture clean without damaging it, then PVC, resin, or HDPL furniture is a perfect choice. These materials resist stains and sun damage and can be cleaned with nothing more than a damp cloth and water mixed with a bit of mild dish soap. We also have full article on the easiest patio furniture to clean here and linked below.
Not only are plastic, PVC, and resin patio furniture built to be durable, they are usually the most inexpensive choices.
If your patio furniture grows any mold, you can scrub it off with a bit of baking soda mixed in a solution of warm water (1/2 cup baking soda to 1 gallon water), rather than using an abrasive cleaner which will scratch the plastic's finish. If your plastic furniture is filthy, use a power washer set to a low pressure to hose them down and flush dirt from any cracks or crevices.
If the climate is particularly harsh, consider treating your plastic furniture with a plastic restorer used for cars. You could also cover your patio furniture when not it use, more in this article on covering outdoor furniture here.
Does Wicker Furniture Hold Up Outside?
Natural wicker furniture made from rattan, willow, or bamboo is not ideal for outdoor conditions such as use on a patio. If you're looking to create a  modern bohemian feel with wicker furniture, leave the indoor natural wicker furniture inside. If natural organic wicker furniture gets wet from rain or spills and is left untreated, it will rot, discolor, and crack.
you can check out more tips and tricks for wicker furniture here and take a look at how long wicker furniture can last ( if properly maintained here as well )
Luckily, many wicker-style patio furniture sets are available. The woven look of traditional wicker furniture is replicated with synthetic materials like PVC and resin. These materials are much more durable, easier to clean, and will not rot. Synthetic wicker patio furniture can be safely left outside in the rain without worrying that the organic material will decay.
Because of the woven style of wicker-look patio furniture, cleaning may take more effort than simply wiping them down; a good option is to hose down wicker furniture with a low-pressure power washer or a garden hose. This will help flush any dust and dirt out of the nooks and crannies of the woven strips.
How Do I Keep My Patio Furniture in Good Condition?
You can help protect your patio furniture and make it last longer by treating the material with the right products.
For iron and aluminum patio furniture, use a paste wax to protect them from the elements. This will also help prevent rusting. If the furniture has already rusted, remove the rust and treat the area before applying paste wax.
Oil wooden patio furniture with the appropriate oils to prevent the wood from drying out or fading and splitting. Sealing wood with polyurethane will also help keep wooden patio furniture looking good for longer, prevents water damage, as well as accentuate the wood's natural color/
If your patio furniture is unused over the winter season, stack and pack them away if they are lightweight or cover them with protective outdoor furniture covers.
Scotch Guard Outdoor Cushions for Durability
If you have patio furniture such as wrought or cast iron that needs cushions to make it more comfortable, you will need to take care of these outdoor cushions. Patio cushions are usually sun- and wet-resistant fabrics like Sunbrella designed for outdoor use. However, they can still get dirty, whether from dust, grime, or bird mess.
Easily clean your soft outdoor furnishings by removing the covers and soaking them in a cleaning mixture made of dish soap and water. If the cushions are moldy, you can also add a little bleach.
Once soaked, scrub them gently to remove any marks and stains, then rinse and dry the covers.
To keep your outdoor patio cushions more durable and stain-resistant, spray them with Scotchguard once they are dry.
Conclusion
Buying durable patio furniture will depend on your budget and needs. Consider the climate and whether or not you want to move your furniture, as some materials can be hefty and difficult to move.
Cost is a factor, and more durable and heavy natural materials are usually expensive compared to lighter, synthetic patio furniture.
Resources