What Is The Best, Most Comfortable Hammock?
A hammock adds an element of relaxation and casual chill to any setting. It immediately conjures up images of quiet time spent rocking gently while enjoying the outdoors. Most hammocks are delightful once you are in them, but it shouldn't take the skills of a gymnast to stay balanced or get out. When selecting the most comfortable hammock for your outdoor area, considerations like size, style, safety, and cost must be factored in.
The 8 best, most comfortable hammocks:
Lazy Daze Double Quilted hammock
Adeline hammock with stand
Hammock Sky Brazilian double hammock
Sunyear camping hammock
Tintonlife hammock chair
LL Bean Quilted Sunbrella hammock
Outsunny Arc hammock
Yellow Leaf Signature hammock
Whether the purpose of your hammock is quiet relaxation or quality snuggle time with someone special, you will find the perfect option on our list. Let's get right into it and check out a selection of hammocks that are so comfortable that you may decide to start sleeping in one regularly!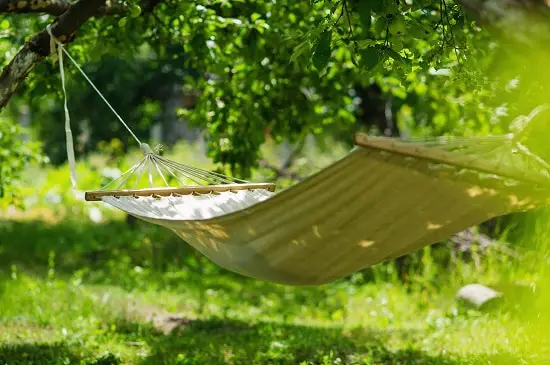 What To Look For When Choosing A Comfortable Hammock
There is no one-size-fits-all choice available when it comes to hammocks. The materials, size, shape, strength, and design must be uniquely tailored to fit its purpose and the setting where it will quickly become a popular feature.
A comfortable hammock is a combination of all these elements. Since you need to trust it to support and suspend your body above the ground, safety must be a paramount consideration. In addition, it needs to look good and not break the bank to buy! That's a tall order for an item with such a basic design.
Before we go through the 8 best, most comfortable hammock options for your outdoor area, let's go through what you need to look for. Every home is different, so your choice of hammock style may also need to fit with your other décor aesthetically, or it may simply be an ultra-comfortable nest where you can take afternoon siestas.
How will your hammock be attached?  – No matter how comfortable a hammock is, if you are concerned that it may fall at any moment, you will never relax. Hammocks can either be attached between two sturdy existing supports, or you will need to invest in a hammock stand. The latter gives you the freedom to move it around.
Another ultra-comfortable variety is a hammock chair. These are perfect if you don't have a lot of space but love the idea of having a cozy nest where you can gently sway back and forth. Hammock chairs either come with a stand or can be securely attached with an overhead hook.
Durability – Like all outdoor furniture, a hammock needs to be able to endure the outside elements. An ultra-comfortable hammock can quickly become a threadbare eyesore if it isn't made from a durable material. Keep placement in mind when selecting the type of material for your hammock.  
The size of the hammock – Two-person hammocks are available if you will be sharing your relaxing space with a partner. The size of a hammock will directly affect how comfortable it feels. If it is too short or narrow, it will feel uncomfortable.
It is vital to ensure that the rope, straps, and rings can all support the weight required. If you and a buddy use the hammock, it needs to hold your combined weight safely.
How easy is the hammock to get in and out of? – Ease of use is an essential element that will affect how comfortable your hammock feels. Even if you get a quilted hammock, if you struggle to get in and then dread getting your feet back onto the ground, it will not be a comfortable experience.
Spreader bar or not? – A spreader bar can make a hammock easier to get in and out of, but it will also take up more space. Hammocks without spreader bars tend to feel more cocoon-like, while ones with a spreader bar are better for tanning or socializing.
Materials – Some basic hammocks are made from rope or canvas, while others feature luxurious, supportive, padded quilted fabric. Opt for the softest possible body support if you want the ultimate hammock comfort.
The 8 Best Most Comfortable Hammocks
We all know about basic rope hammocks, which make an excellent low-cost, cute summertime addition to any outdoor setting. However, they aren't the most comfortable contraptions, and most of us can't spend too much time in one before feeling the ropes cutting into our arms and the back of our legs.  
Hammocks come in all colors, shapes, and sizes, from basic cotton-sling types to luxurious super-supportive designs. To create this list, we have only chosen the most comfortable hammocks you will look forward to using.
1.   Most Comfortable Double Hammock
Product: Lazy Daze Double Quilted Hammock
$74.28
$89.99
in stock
15 used from $53.76
as of August 26, 2023 11:26 am
Made from a luxuriously soft and comfortable, double quilted polyester, this hammock is the ultimate indulgence. Your body will not only have a super soft top layer but there is also an inner polyester padding and soft head pillow.
This hammock is wide enough to support two people easily and is perfect for use in undercover patio or gazebo areas. Although it does indicate that it can be used outside, some reviewers have suggested that its thick padding does not make it ideal for coping with rain.
The Laze Daze begs you to sprawl out and relax. Fortunately, it comes in a range of colors, so you may want to choose a darker shade that doesn't show dirt quite so quickly. There are prints to match every setting, even a trendy flower-power option with cute side edging tassel detailing.
2.   Best Most Comfortable Classic Hammock With A Stand
Product: Adeline hammock with stand
What we love about this hammock is that it is simple to set up, comes with a stand, and has a detachable soft pad and pillow. It is the perfect all-in-one hammock solution for next to the pool or on your patio.
The hammock pad is made using weather-resistant fabric and has a soft inner poly quilting. You won't feel the rope section below it while it is on, but if you would like to feel a bit of an under-breeze, it can be removed, and the hammock will still feel comfortable.
The Adeline hammock is everything that a classic style backyard hammock should be, at a very reasonable price, without skimping on comfort. The spreader bar makes it a snap to get in and out of. It is not often you find a product that receives consistently excellent reviews.
3.   Best Most Comfortable Cotton Hammock
Product: Hammock Sky Brazilian Double Hammock
out of stock
as of August 26, 2023 11:26 am
The Hammock Sky Brazilian hammock is generously sized and easily able to hold up to 475 pounds. It is, therefore, suitable for two people, but because it is made of thick cotton, it won't look overly big or take up space when it is not in use.
Since this hammock is made from cotton, it is breathable, so you are less likely to overheat while relaxing. The fabric is moisture-wicking, so you will stay comfortably cool while gently rocking to and fro. Once you are done, it can easily be folded up and stored compactly in its carry bag. This also makes it perfect for taking along on picnics or camping trips.
The generous size makes you feel securely nestled inside without worrying about tipping out. This cotton hammock holds and supports your body naturally.
This hammock is also an excellent choice for anyone with kids or pets. Since it features a solid fabric pad, there are no ropey gaps for little legs or paws to fall through. It is sturdily constructed and hand-washable.
4.   Best Most Comfortable Hammock For Sleeping
Product: Sunyear Camping Hammock
$69.99
$79.99
in stock
as of August 26, 2023 11:26 am
Hammock sleeping is common in some parts of the world. If you love the idea of rocking gently in a secure hammock while drifting off to sleep, then the Sunyear camping hammock is a perfect choice. Unsurprisingly, it was designed for hikers to sleep in, but its classic shape and practical features also make it ideal for use on your patio or back garden.
Besides being ultra-lightweight and comfortable, the attached bug net is an absolute must-have feature for anyone who intends to sleep in their hammock. We all know it's impossible to relax while being circled by blood-sucking mosquitoes or dive-bombed by pesky moths!
This hammock is lightweight, portable, and super strong. It comes with a lifetime guarantee. The other nifty feature of the Sunyear is that although the mosquito net is attached, you can effortlessly flip it over if you want to use the hammock without it.
5.   Most Comfortable Hammock Chair
Product: Tintonlife Hammock Chair
out of stock
as of August 26, 2023 11:26 am
Many people avoid hammocks because they don't feel secure not having their feet firmly on the ground. The Tinton life hammock chair solves that problem while retaining all the comfortable comforts of relaxing in a hammock.
Everything about this hammock chair is comfortable. It is constructed of durable but still breathable cotton and polyester blend. It features a soft two-piece cushion set, and the hammock chair is big enough to accommodate even large adults. The back of this chair hammock is high enough to support your head if you feel like drifting off for a short nap.
A classic piece that will look perfect on the patio or hanging under a tree. This practical design even includes a side pocket where you can keep your favorite book. You can even use it for your child's story time and then gently rock them to sleep.
6.   Best Most Comfortable Hammock For Families
Product: LL Bean Quilted Sunbrella Hammock
If you need a sturdy, uncomplicated, comfortable hammock that is large enough to accommodate your whole family simultaneously, then the Quilted Sunbrella hammock from LL Bean is just what you need. The pad is made of a breathable, fade-resistant fabric that is quilted for luxurious cushioned comfort.
This hammock looks classic and is easy to use comfortably by the whole family. The spreader bar securely holds the durable polyester ropes in place while keeping the pad flat. A bonus is that this hammock is made in the USA, so you will be supporting locally made products while relaxing in your hammock.
The only downside of this striped classic is the price. However, since the hammock is made of durable materials and features quick drying, mildew-resistant fabric, it is an investment that will be around for many years.
7.   Best Most Comfortable Hammock With Canopy
Product: Outsunny Arc Hammock with canopy
$209.99
$249.99
in stock
as of August 26, 2023 11:26 am
The Outsunny Arc hammock is perfect if you need an elegant piece that will always be in style. This free-standing, gorgeous design can be placed anywhere, and you will stay cool under the canopy feature.
The frame is constructed from classic-looking, strong Russian larch wood, which has been teamed up with a soft polyester cotton cloth hammock. This isn't your usual run-of-the-mill backyard hammock. It gives an elegant, refined look in any setting.
The hammock pad is made from solid breathable fabric so that you won't overheat or end up with a criss-cross design on your body like some other hammocks. The canopy is removable if you want to catch some rays while lounging comfortably.
8.   Best Most Comfortable All Round Hammock
Product: Yellow Leaf Signature Hammock
$199.00
in stock
2 new from $199.00
as of August 26, 2023 11:26 am
We have seen a few hammocks in our time, but this one goes above and beyond expectations. It is handwoven from ultra-soft yarn that will securely cradle and support every inch of your body.
Besides only being supremely comfortable, the Signature hammock is weather resistant and can stay outdoors, no matter the weather. It is soft, portable, and light, so you can take your snug cocoon with you anywhere that you can find a spot to hang it. 
Unlike other woven hammocks, the Signature features a soft, tight weave, and the body pad is woven seamlessly onto the securing ropes. A really interesting 'throne' stand is available as an additional piece, but the Signature is compatible with any existing hammock stand you may already own. It is an exceptional product that will soon have you drifting off to sleep.
If comfort is important to you you should check out out article on making outdoor cushions more comfortable here.
Conclusion
No matter what hammock design you have in mind, the ultimate test of how often you will use it is how comfortable it is. There are many outstanding options for anyone who loves the carefree feel of a hammock and wants to relax without worrying that they will emerge stiff and sore after a relaxing nap.
References: