Should You Have Different Flooring In Your Kitchen?
I have spent a small fortune on replacing my matching kitchen flooring because it was simply not hardy enough for two clumsy cooks, messy hormonal teenagers, and muddy pets. So, I've learned the hard way that it is sometimes wise to invest in different high-quality flooring in your kitchen.
You should have different flooring in your kitchen if the flooring in your home is not moisture, heat, or stain-resistant and prone to dents and scratches. Robust alternative kitchen flooring that matches your unique style and dining room floor color will offer a great return on investment.
Purchasing durable kitchen flooring might sound straightforward, but it's not. There are simply too many tempting options. So, if you want to learn from my costly mistakes – read on!
Different Kitchen Flooring: Key Considerations
There are several pertinent factors to think about if you are considering installing different flooring in your kitchen. So. let's have a look at them to guide your decision.
Matching & Different Flooring In Your Kitchen: Pro's & Cons
The benefit of having matching floors in your kitchen and dining room areas is that it creates a sense of space and a seamless flow between them.
If you have different flooring and colors in your home, it may create the illusion that your home is segmented or smaller than what it actually is.
Why Should I Consider Different Flooring In My Kitchen?
It's imperative to consider your lifestyle when deciding whether to have different flooring in your kitchen.
Especially if you are a passionate cook prone to occasional passata spills, dropping kitchenware with messy little ones, and rambunctious pets.
If that is the case – is the flooring in the rest of your home able to withstand that much wear and tear, and is it slip-resistant or easy to clean?
Kitchen floors are prone to becoming grimy, and harboring bacteria, so it's essential to have flooring that is easy to clean, does not stain easily, and is water-resistant.
Purchasing Different Kitchen Flooring: Tips & Tricks
Once you have realized that having different flooring in your kitchen is required, it's time to consider the following factors:
Style matters: consider flooring that will compliment your home's contemporary, country, or rustic style, including your color schemes, patterns, and textures.
Budget constraints: once you have 'crunched some numbers" and measured your kitchen's square footage, factor in additional costs for deliveries, labor, including the removal of your old kitchen material.
The comfort component: hard tiled floors could lead to leg fatigue if you spend long hours prepping delicious meals in the kitchen. It may be prudent to purchase softer flooring or a padded rug to add to your comfort.
Mixing Different Types of Wood Floors In Your Home
If you currently have wooden floors right throughout your home, installing wooden floors in your kitchen could be a great option to create a sense of cohesion.
The square meterage of your kitchen should determine the color of the wood. Lighter, durable wood will brighten up a small space. Alternatively, darker wood will transform a large kitchen into the cozy heart of your home.
However, if you decide to install wood in your kitchen, try to use a wood species with a similar stain in that area to withstand all the wear and tear that a kitchen is prone to suffer.
A great rule of thumb is to limit your wood tones to three for flooring, décor, and furniture to create a harmonious flow throughout your home.
Kitchen Floor Colors: What You Need To Know
Neutral Colors
Your kitchen flooring should ideally be white as it's a neutral color. It does not have to be boring as you can still use unusual flooring materials. However, white flooring is prone to showing stains or damages.
Color Shades
If you prefer to retain the same dining room color throughout your kitchen, look at flooring options that are slightly brighter in the same range of colors to keep a harmonious flow between the two areas.
Should your dining room have hardwood flooring, retain the natural wood tone, albeit with the added protection of a clear matt or gloss varnish to increase its longevity.
Just keep in mind that you don't have to completely match your kitchen flooring with the rest of your home if it is in keeping with its style, i.e., a country-style home matched with
complimentary flooring materials.
It's also important that your flooring compliments all the other kitchen elements like the cabinetry, countertops, and kitchen island.
Kitchen Flooring Color Combinations
In general, all floors should be darker in relation to a home's furniture or fixtures and bright ceilings.
Kitchens are the exception to that rule as flooring tends to be brighter white colors to highlight and complement your kitchen cabinets and countertops as the key features.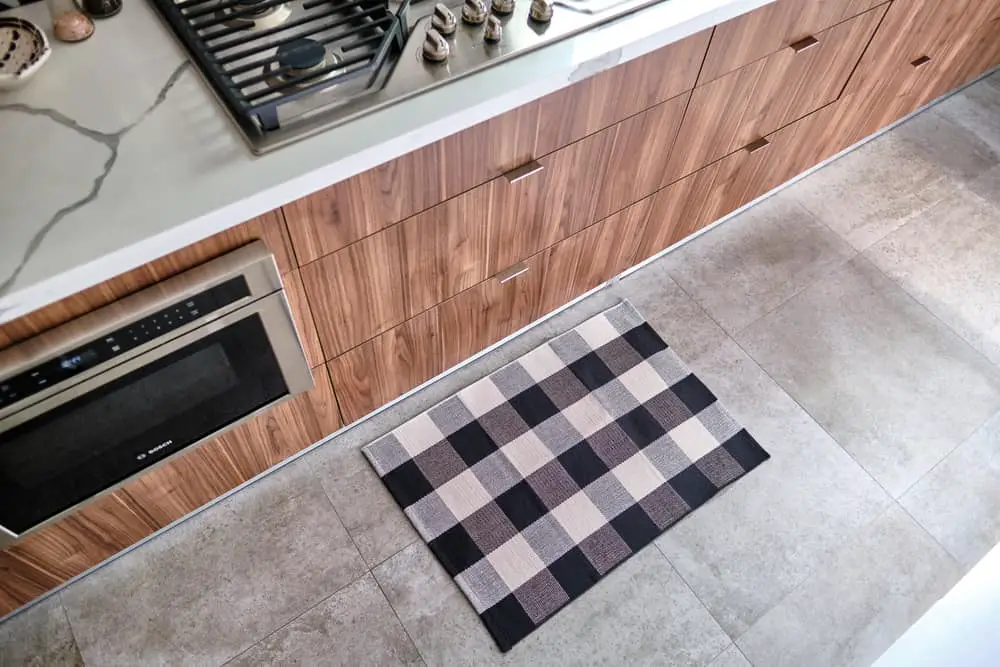 Rugs on Different Flooring In Your Kitchen: The Pros & Cons
Area Rugs Benefits
Area rugs are ideally suited to hardwood kitchen floors that match the flooring in the rest of your home.
It offers an additional layer of protection from spills, scrapes, and kitchen disasters to safeguard your expensive flooring.
They can also transform your kitchen with a pop of color that compliments darker kitchen cabinets and fixtures.
There are so many gorgeous designs to choose from – you will be spoilt for choice!
Area Rug Disadvantages
Good quality area rugs are expensive, and they will not offer the same layer of protection as hardy kitchen flooring designed to resist potential damages.
Another disconcerting aspect of area rugs is that some are produced from highly flammable fibers, which is risky as we all know how quickly a fire can spread in a kitchen.
Area rugs also tend to absorb moisture which can attract bacteria, including mold and mildew. They are also prone to slipping and sliding around, yet another potential safety hazard to consider.
Ultimately, you will have to decide between décor and practicality.
Different Flooring In Your Kitchen: A Brutally Honest Review
Now it's time for the fun part – choosing your gorgeous kitchen flooring. So, here's an honest review concerning the benefits and disadvantages of all your flooring options.
Beautiful Bamboo: For High-End Kitchens
Bamboo is a magnificent robust material that is more durable than hardwood, even if it looks the same. It is available in a wide variety of colors, patterns, and grains, which adds to its bespoke appeal.
It is also more resistant to water damage and moisture retention in comparison with other flooring materials.
Therefore, durable bamboo has become enormously popular with homeowners who want to install state-of-the-art kitchens with a budget to match.
Here are your three main options:
Strand woven bamboo is the most robust and costly option as it is produced from bamboo that has been finely pulped and hard-pressed to form solid planks.
Engineered bamboo consists of planks that have been covered with a layer of bamboo material and waterproof coatings.
Solid bamboo: is produced from bonded, sliced bamboo material to form a solid piece of bamboo that is not suited to moisture-ridden kitchens.
The downside of bamboo is that it's more expensive than hardwood flooring materials. It also needs to be refinished by a professional as it does not contain a wood grain direction like other organic flooring materials.
Classic Vinyl: A Budget-Friendly Choice
Vinyl is a hardy, DIY-friendly kitchen flooring option for homeowners with budget constraints. You can choose between vinyl sheets or traditional tiles in a wide variety of colors and styles.
The benefit of sheet vinyl is that it is a stain and waterproof material that's super easy to clean, perfect for avid cooks and high-traffic family use.
The 12 feet vinyl sheets with minimal seams are available in a wide array of styles ranging from your typical "run of the mill" option to an embossed version that emulates expensive ceramic stone or tiles flooring.
The added advantage of sheet vinyl is that it reduces leg fatigue as the flooring is softer to stand on than other flooring options.
Plus, it's more forgiving when kitchen items are dropped on the floor, which, as we all know, is bound to happen.
The only downside of sheet vinyl is that it is not as robust as other flooring materials, as its color tends to fade after ten years.
If your budget is not constrained, rather invest in luxury vinyl flooring (LVF), the modern equivalent of the classic vinyl we knew as children. 
LVF is available in tiles or plank versions that genuinely look like stone or wood, which offers a high-quality kitchen flooring option that will last for decades and is often used in high-end kitchens.
Durable Ceramic Tiles
Ceramic tiles are produced from organic clay that has been shaped, covered with a protective glaze, and baked under extreme temperatures.
Its' a durable, robust flooring option for high-traffic kitchens impervious to stains or water damage. Moreover, it's resistant to breakage and heat damage.
Ceramic tiles offer a great return on your investment as they should last a lifetime, and they will retain their pristine appearance after much wear and tear.
Moreover, you will be spoilt for choice if it is available in a wide variety of colors and striking designs that credibly mimics wood or stone materials in numerous shapes and sizes.
The only disadvantages of ceramic tiles are that they can lead to leg fatigue for avid cooks as it's a rigid material, and it tends to be colder underfoot. However, budget permitting, installing underfloor heating will address that issue.
Pretty Porcelain
Porcelain floor tiles are an upgraded version of ceramic tiles and a fantastic choice if you want to combine beauty with durability.
It offers a robust, less porous version of ceramic tiles, ideally suited to busy kitchens prone to the odd messy spill.
You will be able to choose between an attractive glazed or a non-glazed option.
Glazed porcelain tiles have a glassy surface coating and are available in a wide variety of beautiful colors. In contrast, the unglazed versions are available in several natural, earthy clay colors.
The only downside of porcelain tiles is that they are incredibly slippery, which could be risky in a high-traffic kitchen.
However, certain porcelain tiles have been certified as slip-resistant in accordance with the Americans with Disabilities Act (ADA).
Natural Hardwood
If you are looking for a flooring material that marries durability with warmth and beauty – look no further!
Especially if you want to incorporate hardwood flooring throughout your home.
It's a low-maintenance hardy material that should be moisture and stain-resistant if treated with a polyurethane finish or a modern sealant.
Hardwood flooring is available in two options consisting of solid or engineered wood planks.
Engineered wood planks consist of plywood covered by natural wood, which increases its stability and ability to resist humidity, including temperature changes.
However, caution is advised as the solid and engineered wood options are prone to retain moisture, including stains.
So, let's have a look at the benefits and disadvantages of hardwood flooring materials:
Benefits: it offers a great return on investment as it offers a significant resale value, is comfortable to stand on, and can be refurbished to give it a new lease of life.
Disadvantages: it's costly, not resistant to dents and scratches, and not suited to homeowners who would like to install it themselves.
While hardwood flooring will not retain its former perfection over time, it's an excellent choice for homeowners who cherish its warm and authentic characteristics.
Industrial Chic Concrete
Concrete flooring is suited to ultra-modern, urban industrial-style homes built on a ground level, without a basement.
It's an affordable, durable flooring option that may either be polished or stained in a wide variety of colors to culminate in an aesthetically pleasing work of art.
However, like every other flooring material, it has its flaws. Concrete flooring is a hard material that may feel cold to stand on.
Additionally, it might be hard to sell your home if the urban-chic style of concrete flooring does not appeal to potential buyers.
Eco-Friendly Linoleum
Linoleum has made a comeback since the 1960s as a sustainably produced flooring option crafted from biodegradable powdered cork and linseed oil without toxic additives.
It's a flexible flooring material that is available in a wide variety of colors and patterns, is easy to clean, and can withstand lots of wear and tear.
While the product is moisture-resistant, it is prone to staining. Therefore, ensure that your selection includes an additional protective sealant to keep scratches and spills at bay. With proper care, they may last for several decades.
On a cautionary note – linoleum is prone to damage should a leak or a flood occur in your kitchen. Furthermore, it would be wise to invest in a premier quality version to avoid curling edges.
Luxurious Natural Stone Tiles
Natural stone is the epitome of luxurious elegance due to its durable magnificence. It's an excellent long-term investment as it attracts discerning homebuyers.
However, natural stone tiles have unique qualities and vary significantly in their hardiness, longevity, and scratch-resistant capabilities.
So, here's my candid list to guide your buying decision:
Hardy granite is available in countertop slaps and flooring tiles renowned for its natural beauty and durability if adequately maintained.
Marvelous marble: is famous for its chic veining and elegance. However, polished marble is not incredibly hardy as it's prone to scratches and stains.
Earthy sandstone: features soft multicolored hues. While sandstone is not the most durable stone alternative, it fares well in most kitchens.
Sophisticated slate: this is undoubtedly one of the most stylish stones, which offers a great return on investment as it could last a lifetime if well maintained.
Textured Travertine: is a more traditional classic stone that is not incredibly durable.
While natural stone is a lovely flooring material, it is a high-maintenance porous material prone to staining.
If you are still intent on installing stone kitchen flooring, it's imperative to budget for a yearly application of clear stone sealants to keep your beloved flooring in tip-top condition.
Conclusion
A kitchen is the nucleus of a home which must be able to withstand much wear and tear. However, if you invest in quality, low-maintenance kitchen flooring that is comfortable to boot – it will stand the test of time. Happy cooking!
Resources