Mosquito Netting For Balconies
Summer is the season for fun, lazy sunshine-filled days and mosquitoes. If you don't have an AC, you must keep windows open and the sliding doors on your balcony to create a draft. What if you can remedy that with mosquito netting for the balcony?
Mosquito netting for a balcony is an effective and permanent solution to prevent mosquitoes and other bugs from entering your house. Several specialized outdoor and weather-proof mosquito netting options, including clear-vision permanent sliding doors with netting.
Depending on the size of your balcony and the budget you have to spend, you can set out and do an easy DIY job if you're up for the challenge. If the mosquitoes are taking over and you need faster results, you can hire an experienced handyman to assist.
Is Mosquito Netting Effective On A Balcony?
Mosquito netting can effectively keep mosquitoes at bay while you enjoy a sunset in peace. Nothing is as annoying and uncomfortable as constantly being bitten by hundreds of hungry mosquitoes and slapping yourself into a semi-coma.
Take into consideration that the pretty lacy mosquito netting you use in the bedroom is not the same that should be used outside. Typically, outdoor mosquito netting is different in the following ways –
It's a lot tougher in design.
The materials used are likely pre-treated with an insect repellant
The netting is weatherproof
The netting on the clear-vision sliding doors is more rigid to maintain shape better.
Outdoor mosquito netting around your balcony can transform it from a place of avoidance to peace and tranquility. It is proven that good quality mosquito netting in areas with a high population of mosquitoes is highly effective at preventing bites.
Mosquito-borne diseases are not only an African issue. There are a few dangerous and potentially fatal diseases you can contract from mosquitoes, such as –
Zika virus
Malaria
Dengue fever
Chikungunya
What Type Of Mosquito Netting Should You Use On Your Balcony?
Once you've decided to enclose your balcony using mosquito netting, you need to consider a few points before you go to your local hardware store.
What is the floor size of the balcony?
Where is the balcony located – upstairs or on the ground floor?
Does the balcony have a roof overhead?
Is the balcony open
Is the balcony on the ground floor or the second story?
Is the balcony constructed with wood or brick?
Does the balcony have a guardrail all around?
Is there a view from the balcony that you don't want to block?
Do you want permanent or semi-permanent mosquito netting?
You'll get an idea of how to approach the project by answering these questions.
What Types Of Mosquito Netting Will Work On A Balcony?
When looking for the correct type of mosquito netting for your balcony, here are some varieties you can consider –
Cotton
Nylon
Polyester
Bamboo fiber
Hemp fiber
Polypropylene
Polyethelene
Any materials used for mosquito netting should be treated with a synthetic pyrethroid insecticide. The most popular pyrethroids are permethrin or deltamethrin. The insecticide ensures that insects can not bite through the netting.
Pyrethroid-treated netting is 70% more effective at preventing mosquito bites than non-treated nets. Re-application of the insecticide should be done every six months or before summer. If the netting is exposed to a lot of rain, it will lose effectiveness faster.
Choosing the suitable color netting is also a point of consideration. White or grey netting can work well if your house and balcony have white trimming and accent points. Consider using dark green or black netting if your home and balcony have darker accents and colors.
The clear-vision style netting is a transparent polyethylene netting that allows an uninterrupted view and is usually fitted to sliding frames for large balconies. Some nets are fire retardant, adding extra protection while enjoying an outdoor BBQ.
High-traffic areas, such as the doorway from the house to the balcony, can be fitted with a pleated mosquito net. It has no intermediate rod and can easily be opened.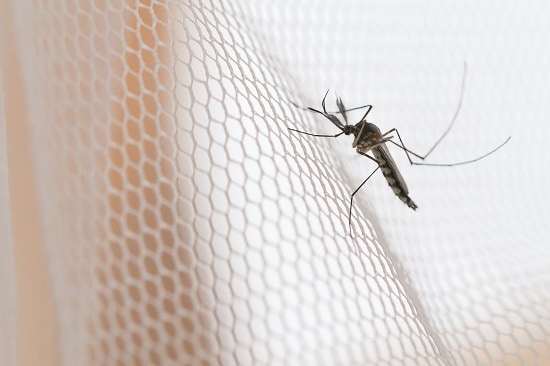 How Is Mosquito Netting Fitted On A Balcony?
Mosquito netting is usually sold by the yard, foot, or roll in length and is about 13.5ft wide. The easiest way to measure your balcony is to measure the size of the area you want to be covered. Then the height from the ceiling to the floor where you need to secure the netting.
A few manufacturers make netting panels with eyelets or grommets spaced every 12 inches around the border. These panels can be made to order and are easy to attach with screws and washers, zip ties, bungee cables, or hooks.
If you are planning for a seamless look, then you can have the manufacturer add a 2-inch webbing border with grommets every 12 inches along the length of the netting.
Installing a long piece of mosquito netting on your balcony can be challenging to work with. The net is durable but can tear if hooked onto a sharp object, so working with a helper is a good idea.
Firstly you should mark the roof in a 12-inch or whatever measurement the manufacturer places the grommets. Next, count the number of screws and washers you will need. Securing the netting on the balcony floor can be done with magnet strips or similar to the top, with a 2-inch webbing border and grommets to screw in.
Tools you may need:
A stepladder
A measuring tape
Safety gloves
Eye goggles
A cordless drill
A cordless screwdriver
Screws and washers
A helper that can hold the excess netting
After marking the area of attachments on the ceiling, you can drill holes with the correct size drill bit. Then, starting on one side of the balcony, you can fold the webbing border so that it faces inward and the grommet is flat against the ceiling.
 Place a washer over the grommet, secure the screw with the electric drill, and move on to the next grommet. As you move the stepladder around, check that sections of the netting do not get caught underneath. Once the entire top area is secure, you can follow a similar pattern with the bottom.
Balconies with no ceiling or natural roof can be fitted with an awning and the netting secured to the underside of the awning.
Another way to enclose it is to build a wooden frame around the balcony and cover it with netting. To create shade, you can first put a tarp on the top and screw it into the frame, then cover it with the netting. Building the structure at an angle will prevent waterlogging.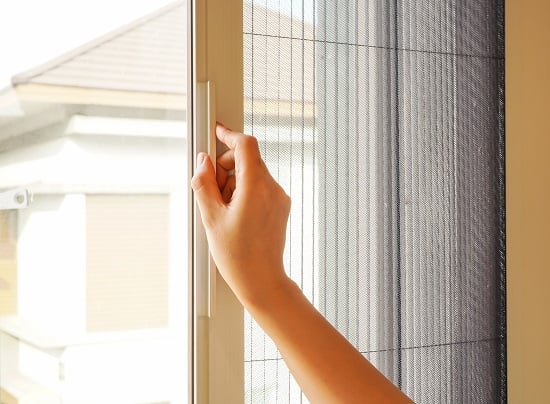 Mosquito killing Nets.
While prevention is better than cure, there are some times when attacks are the best form of defense and one way is fairly new to the market Mosquito Nets, Bats, and rackets. Which we look at in more detail here on the site. ( you can check the link above)
They have UV lights to try to attract mosquitoes and other flying insects, and a 3500 voltage to kill them instantly ( and oddly satisfying noisily) They are also rechargeable so you can take them on picnics or days out, and while they are shaped like a racket so you can swing them to try to catch the mosquito, though we have found standing them up is more effective, though less of a workout.
Conclusion
We have highlighted some ways to prevent mosquitoes on balconies above, from netting to plants. You can also try to go on the attack rather than the defense with some of the mosquito traps and electric zappers we have listed above as well.
Suppose you live in areas with a high population of mosquitoes like Texas, Florida, Oklahoma, or Georgia. If so, there is no argument against enclosing your balcony with netting to keep the bloodsuckers out!
References