How To Choose A Bathroom Sink Size
Finding a bathroom sink that demonstrates your style is easier than ever with several colors, materials, designs, and size options. The following article will show you how to choose the correct bathroom sink size best suited for your bathroom.
The most significant factors are the sink size, bathroom floor plan, space available, uses, and fittings when choosing a bathroom sink. The sink's depth, width and height measurements are vital, and the size of the sink should be based on your bathroom's overall size.
This article outlines the different styles of bathroom sinks and standard sink sizes for various applications and materials. Choosing the correct bathroom sink sizes can be complicated. We explain how to select the right bathroom sink in detail here. Let's find out!
How to Choose the Correct Bathroom Sink Size
The last thing you want to do is mismeasure your bathroom sink when buying a new bathroom sink. Getting accurate bathroom sink measurements and the correct size is vital to finding the right sink for your bathroom.
There are a few considerations to take into account, like; if you need a sink for a powder room where hand washing is the main activity, you may choose a shallow sink. For an active bathroom where activities like washing faces, brushing teeth, and shaving takes place, a deeper sink should be considered.
Most bathroom sinks are typically available in standard sizes that fit with standard bathroom countertop cutouts. When you decide on a sink that sits on a countertop, things like faucet height should be considered.  If you choose a pedestal sink rather than a vanity, you need to establish that it fits your bathroom's floor plan.
Questions to ask before you buy a bathroom sink.  
Am I replacing an existing sink?
Will the same footprint work? 
Do I want a vessel, vanity or pedestal sink? 
Will the existing faucet limit the height of the sink? 
Will the plumbing fit the sink? 
Is there space for one or two sinks?
Will the sink be centred in the bathroom? 
Will the vanity fit the sink shapes you want – oval, rectangle, square or round?
Will multiple people use the bathroom?
How Will the Sink be Used?
First, you need to decide what the bathroom sink will be used for, like washing hands, brushing teeth shaving, etc., before deciding on the size. If it is a bathroom with high traffic and many activities, you should choose a more significant and deeper bathroom sink.
Choose a smaller sink if you require a bathroom sink that will only sit in a powder room where handwashing is the main activity.
Bathroom Space and Floor Plan
When you figure out the purpose of the sink, it is time to look at your bathroom floor plan to find out if you have the space available. The sink size will depend on the space open, your bathroom's layout, and connected plumbing.
Allocating sufficient floor space for a bathroom sink is essential. If you decide to install a vanity sink, available counter space should be considered.
On both sides of the sink, there should be at least 4 inches of space to let you keep bathroom items on the counter. If the bathroom has enough floor space, adding more than 4 inches is clever for comfortable counter space use.
For installation this is important because most bathroom sinks need this space for waterproof installation. An undermount sink will need a few extra inches on each side for correct installation.
Calculate the wall space needed for floating or wall mounted bathroom sinks and mount them at about 34 inches from the floor. Be extra careful to not install it in the way of any existing bathroom fixtures.
The space the sink takes up for a pedestal sink depends on how high the pedestal sink stands. These types of sinks are like wall-mounted or floating sinks when it comes to height. Thirty-two inches to 34 inches are the norm for pedestal sinks. Make sure you leave enough space on each side of the sink so you can hang some wall mounted bathroom accessories or shelves.
Finding the correct size sink depends on how much space you have available and the size of your bathroom. If you are lucky to have a more oversized bathroom, you can choose larger bathroom sinks. But if you have a smaller bathroom, it can be a challenge, but you could always install a floating or wall-mounted corner sink in a smaller bathroom to save space.  
Make sure you calculate the height of the sink because the sink must be installed at a comfortable height. Average bathroom sinks are 34 inches.
Vanity Sizes
Bathrooms and powder rooms are typically the smallest rooms in a home. However, they store the most like toiletries, skincare products, towels and cleaning supplies. Bathroom countertops and vanities are no longer just a place where a toothbrush lives. These days bathroom countertops and vanities are design statements. 
If you choose to install a vanity sink, ensure the vanity has enough space to accommodate the sink and allow extra space for toiletries. Single bathroom sinks can comfortably fit into a vanity measuring from 24 inches to 48 inches.
This size vanity can accommodate almost every type of bathroom sink. Most smaller bathrooms might not have enough space for vanity but could house a floating or pedestal sink.
You free up the space below your sink when installing a wall-mounted or floating sink. The extra space adds airiness to a bathroom, making it seem more significant.
And exposing the inner workings of your floating or wall-mounted sink allows another opportunity for a designer touch in the form of classic exposed fittings.
Your vanity should measure at least 60 inches long for double bathroom sinks or two sinks. The ideal size vanity should be 60 to 72 inches.
This sized vanity allows two-bathroom sinks with a 12-inch space between the two. The average depth of a bathroom vanity is 20 inches to 24 inches. The dept can vary according to design.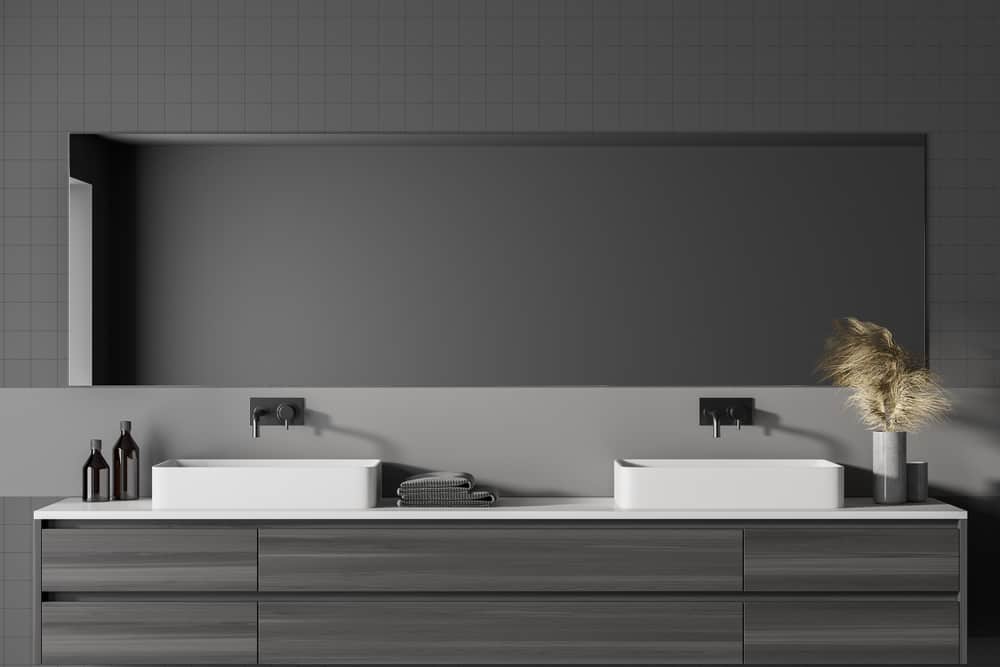 How To Measure a Bathroom Sink
To find the correct bathroom sink replacement for your bathroom, you need to measure several aspects of the sink. Start by measuring the basin's depth, length and width.
Here's how to measure,
Start by measuring the width. Calculate the distance from one side of the basin to the other with a tape measure.
Secondly, measure from the back of the basin to the front and write that down.
Thirdly, measure the exterior of the basin from the top to the floor to get the height and note it down.
Lastly, measure the inside from the deepest part of the basin to the overflow to calculate the basin's depth.
Use your current bathroom sink measurement to choose another with the exact measurements. Be sure to calculate plumbing fittings into your measurements as well.
If you are installing a vanity sink, you should measure the countertop space of the vanity to find out how much space your sink needs to fit. 
Bathroom Fittings
Plumbing and Faucets
There are several designs of bathroom sink faucets available for bathroom sinks like a center set, single handle, and widespread and waterfall.
The type of faucet you need will depend on the style of sink you choose. You should consider the number of faucet holes required to fit the plumbing you already have in the bathroom. Choose a sink that has faucet holes ready and incorporated for easy installation.
You could choose a sink with a single faucet hole. Small bathrooms might benefit from small bathroom sinks and have wall-mounted faucets to maximize space.
For larger bathrooms, you could install sinks with more than one faucet hole that can house a variety of faucets. Faucets should be installed at the correct height to avoid splashing.
Install the facet so that the spout is about 6 inches above the bottom of the basin. This height can vary depending on the style of the sink.
Measure the distance and ensure your plumbing matches the sink you choose for your bathroom. Modern stainless steel bathroom sinks and faucets are increasingly popular for their ability to fend off stains, durable, easy to clean and resist bacteria.
Standard Sink Sizes
Bathroom sinks sizes can vary from 10 inches to 80 inches. However, sinks around 80 inches are not standard unless custom made on order. The traditional bathroom sink size is 20 inches to 30 inches.
Petite Bathroom Sinks – 15 inches
Petite bathroom sinks are usually under 15 inches. These tiny bathroom sinks are ideal for bathroom designs where there is not a lot of space.
Most petite bathroom sinks are wall-mounted or installed in a small vanity. Because of their small size, these tiny sinks primarily function as handwashing stations only.
Small Bathroom Sinks – 15 inches to 20 inches
Bathroom sinks in this size range are perfect for small bathrooms. They offer several installation options like wall-mounted, undermounted or vessel sinks. These sink sizes are excellent for a single vanity sink or guest bathroom with low activity.
Medium Bathroom Sinks – 20 inches to 30 inches
Medium bathroom sinks can fit most standard sized bathrooms except small bathrooms. Medium-sized bathroom sinks are available in a variety of styles and designs. 
Medium-sized sinks are most often used in residential bathrooms, restaurants, office buildings, public restrooms and hospital bathrooms.
Large Bathroom Sinks – 30 inches to 40 inches
Large bathroom sinks are available in 30 to 40 inches and need a more expansive bathroom floorplan to accommodate their size.
Large bathroom sinks work well as wall-mounted sinks, trough sinks, and double bathroom sinks. They are challenging to fit into most vanities due to their size and weight. Ensure you have enough space on each side of the large sink before installing a sizeable sink into your bathroom.
Extra Large Bathroom Sinks – 40 inches to 50 inches
Extra-large bathroom sinks are frequently available as trough sinks or double bathroom sinks.  These extra-large 50-inch sinks are perfect for multiple faucets and ideal for two people in the bathroom simultaneously.
Double Bathroom Sinks
These sinks are typically designed to have two basins that allow multiple people to use the bathroom simultaneously.
They are available in various designs and can be installed as two separate sinks. A vital point to consider is that double sinks need more space and a large enough countertop to fit them.
The standard size for a double bathroom sink is 47 inches. Remember to keep at least 12 inches of space between the two sinks to allow each person sufficient space.
Sink Materials
Bathrooms and guest powder rooms are ideal for choosing a bathroom sink that can make a statement showcasing your expressive, artful design talent.
Bathroom sinks come in many sizes, shapes, colors, and different material options. They are available in glass, porcelain, granite, fireclay, marble, patterned vitreous material sinks, clay-based ceramic, bamboo, wood, natural stone and resin. 
Metal sinks like unpolished brass, bronze, and pewter all age with a beautiful patina over time, making them perfect for traditional and modern bathrooms. These metal sinks are available in copper, brass, stainless steel and bronze. 
Conclusion
Choosing a bathroom sink as a replacement or a new vanity sink can become challenging if you don't know where to start. There are so many options for bathroom sinks and so many things to consider.
The sizes, designs, and materials are all factors to consider when choosing a bathroom sink for your bathroom. As we explained above, it is important to measure correctly to calculate the size of a bathroom sink you need before you purchase it. If you measure correctly, choosing a bathroom sink can be fun and easy.
We hope this article on how to choose a bathroom sink size helps you to select the sink that perfectly fits your bathroom. When choosing a bathroom sink, keep in mind the size of countertops, vanity cabinets, and bathroom floor space available to install the bathroom sink that best suit your personality. 
Now that you know how to choose a bathroom sink size select the size and design that resonates with you and fits into your bathroom space.
Sources