Best Wood for Kitchen Floating Shelves
Floating shelves are a great way to display your favorite items. They are perfect for improving home décor, especially in the kitchen area, and also helps in displaying ingredients or utensils you want to show off. That's why your floating shelve should be made from the best wood.
Making floating shelves is not always easy, though. That's why it's crucial to choose the best wood for kitchen floating shelves before you start building them! There are various types of wood available on the market. And, your choice for the best should be epic for the shelve to last long while serving its purpose.
Choosing the type of wood for your project can be just as important as what you're building. Wood is an imperfect material that requires careful consideration when selecting the suitable material for your project. Many factors can affect how well your wood will work in any project, including its durability, cost, environmental issues, and more! The type of wood you choose will depend on what materials you have on hand and which properties work best.
Consider these wood types that are suitable for kitchen floating shelves:
Plywood
There are many different types of wood that can be used to make kitchen floating shelves. However, plywood is one of the best choices because it is lightweight, easy to work with, and inexpensive. Besides, the wood is durable and affordable, making it easy to install and doesn't require a lot of hardware.
Plywood's relative strength-to-weight ratio makes it ideal for this floating shelves project. It is strong but not as heavy as other types of wood. This means that you can use thinner pieces of plywood to create the same amount of stability as thicker pieces, which means you can save some money on your materials!
It's more easy to cut plywood into various shapes and sizes depending on your need. The pieces are also lightweight, which makes them much easier than other types of wood to carry around. Plywood pieces are also much more inexpensive than solid pieces of wood, which saves money.
Pine
Pinewood is one of the best and popular woods for making kitchen floating shelves because it is strong and can withstand a lot of weight. With its many uses and low cost, it's no surprise that pine has become the go-to material for this project.
Pinewood is the best option, whether you are looking for a modern, country, or eclectic look. It can be stained to achieve any desired color you need to match your current décor. Besides, it's also flexible and works well with different kinds of cabinets.
If you're looking for one of the best woods, then pine should be a perfect choice for making kitchen floating shelves. It is strong, implying it will withstand a lot of weight. Besides, it has a beautiful natural color and is soft to touch, but not too soft. The wood is also relatively inexpensive, making it an ideal choice for anyone looking to make their floating shelf.
Cherry
Cherry is a strong, durable hardwood with a beautiful, reddish-brown grain. It has always been a popular choice for kitchen cabinets due to its rich red color, which can make kitchens seem cozy and warm.
When looking for an excellent choice for kitchen shelve, cherry is one of the best. The color of cherry will add warmth to any kitchen setting. This is so because the wood is also relatively soft, durable, and easy to work with when bringing out the best of a floating shelve.
Koa
Wood is a beautiful, natural material that has been used for centuries to create everything from furniture to musical instruments. In the kitchen, wood is often used for counters or cabinets, but it can also be a versatile and affordable choice for kitchen floating shelves.
Wooden shelves are often made from a variety of different types of wood, but one of the most popular choices is Koa wood. Koa is a hardwood native to Hawaii and other Pacific Islands that was once used exclusively by royalty because it was so rare. It has been used in kitchens since at least 1947, when it was specified as an ideal shelf material in the book "The New Housekeeper's Encyclopedia." So, it's a perfect choice of wood when making your floating shelves.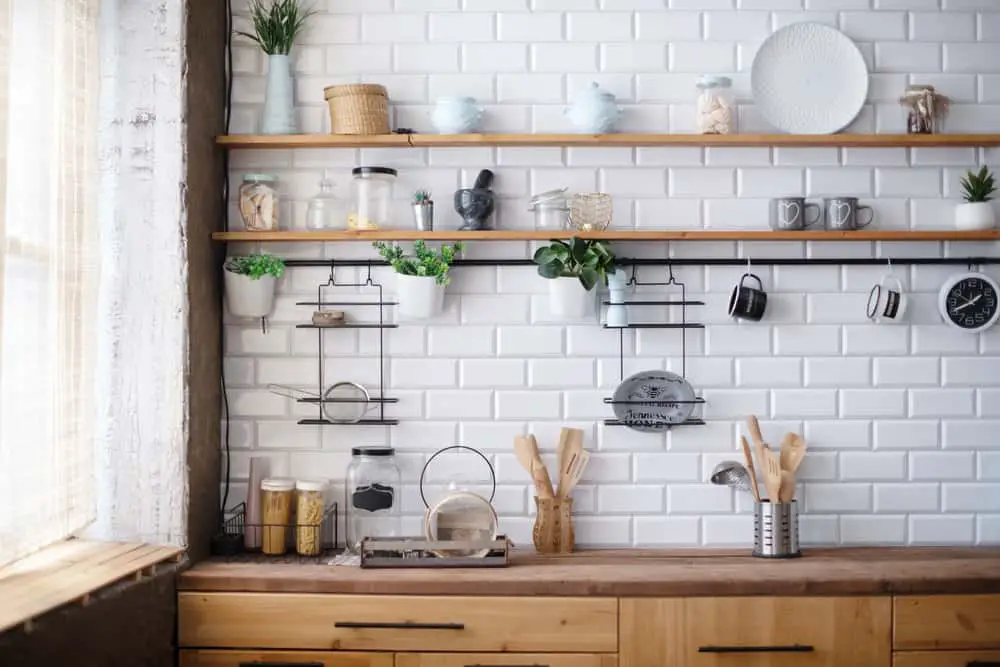 Red Oak
The natural beauty of wood is a reason why red oak is a popular choice for kitchen floating shelves. It has very distinctive variations in color and grain patterns due to the tree's age and species. Red oak tends to be stronger than other species, making it a good choice for projects that require structural support.
Red oak has been used as a building material since prehistoric times because of its durability and natural resistance to insects. When working with red oak, it is essential to understand that the wood can react differently when exposed to different finishes, paint, oils, or glues. Before using red oak for any project, caution should be taken in order to avoid any long-term damage or splitting in the wood.
Owing to these properties, red oak remains to be one of the top woods sought for when making floating shelves. It's ideal because of resistance to insects and durability.
Paduak
Floating shelves are an excellent solution for small spaces. They are popular in kitchens today because they allow space for movement and save space by not occupying the floor. The shelves can be used to create a beautiful display of spices, plants, food items, and more. But not all floating shelves are created equal. And some materials can be superior to others for this purpose.
There is a wide variety of woods that can be used to make attractive and durable floating shelves. But Paduak wood is one of the best options available for this purpose because it has many valuable properties that make it more desirable than other types of wood on the market today.
Paduak Wood is an excellent material for making kitchen floating shelves because it can make many other things. It is durable and weather-resistant, perfect for use in places constantly exposed to harsh climate conditions.
Mahogany
Wood is a natural material that can be found all around the world. It is one of the most renewable and sustainable materials that we have available to us. One of the best types of wood for making kitchen floating shelves is usually a question many ask when looking forward to making shelves.
When people ask this question often, the answer is quite simple. There are different types of wood available, but mahogany is one of the best materials. It has a beautiful dark color, and it blends in nicely with other materials such as marble, granite, and metal. Besides, the rich and dark appearance makes it appealing, a reason it is sense used for kitchen furniture such as the cabinets.
Mahogany wood is also incredibly durable and resistant to water damage, which means that it will stand up well over time. This makes it an excellent choice for kitchens with a lot of contact with water, humidity, or spills. It will not warp or chip like cheaper wood such as pine, maple, poplar, and birch.
So, it's worth going for mahogany wood anytime you want durability and resistance to water for your floating shelve.
Bottom Line
When you desire to make shelves, consider the listed wood types above. Wood as a material is one of the best and popular materials for kitchen floating shelves. This is so because it has many benefits, including durability and affordability. 
But, know that the best type of wood for kitchen floating shelves is hardwood. It is durable and does not warp as quickly as other types of wood. Every wood is different in terms of patterns, hardness, grain, and colors. There are different types of wood that are more suited for shelves than others. The best wood for kitchen floating shelves is maple because it is durable and stain-resistant.
Sources