Are Wood Front Doors Safe?
Wood is a versatile material used for different applications across all sectors. It is especially popular in construction. Using wood for making doors is not a strange sight, and it has been used for manufacturing doors for ages, yet it does not look that strong; it got me wondering, are wooden front doors safe?
Security is probably one of the top reasons why doors are made. Wooden front doors are safe as long as they are made of solid wood or have a solid core. Solid wooden doors are not the only type of wooden doors, though. Solid core doors and hollow core doors are the other types of wooden doors found.
The requirements for a front door are simple. The door should be solid, strong, and durable, able to withstand the effects of the natural elements around it. Wooden doors might not look the part, but the correct type of wooden front door does exactly that and even keep out intruders.
The Different Types Of Wood Doors To Use As A Front Door
Choosing the most suitable type of wood door can be a very difficult thing, especially if it is installed at the front of your home. The safety of the door is based on the construction type of the door.
There are 3 types of wood doors used in homes, namely:
Solid wood doors- this type of wood door is a favorite to use as a front door and is the safest option. It is very strong, which makes it a safe option in terms of security.
Solid core wood doors- This type of wood door is used as a more cost-effective alternative to a solid wood door. Solid core doors are also suitable for a front door and are sometimes mistaken for a solid door; it is not as strong as a solid door.
Hollow-core wood doors- This type of wood door is not suitable for a front door. Hollow-core doors can not withstand the effects of mother nature, and the construction of the door makes it suitable for indoor use.
In the following section of the post, the three types of wooden doors will be studied more closely regarding their construction and suitability as safe front doors. 
Solid Wood Door As A Safe Front Door
A solid wood door matches the requirements for a safe front door perfectly because it is strong, sturdy, and handles natural elements like a true champion. So what exactly makes a solid door so safe? Well, for starters the fact that it is made mainly from hardwood like the following:
Oakwood Solid Door
There are numerous species of oak trees.  Many exterior front door manufacturers prefer to use two of those species, white oak, and red oak.
Oak is a very dense wood, and it has the added benefit of being strong and hard and makes it a good choice for exterior front doors. The wood is very recognizable by its distinctive and pronounced grain. The grain is even more beautiful and pronounced when the wood is quarter-sawn. 
Because of a high tannin content, the wood is very resistant to the attack of insects and fungi. Oakwood is a very distinctive material that is high in quality and has a rich color. Oak is a very popular material to be used as a front door because of the following factors:
People love the elegant appearance of oakwood; the appeal of the natural woodgrain instantaneously gives the impression of pure homely charm.
Oakwood is extremely durable; oak becomes harder as time passes and has a strong moisture resistance. It is also good at resisting rot, so it does not require much maintenance.
Oakwood can withstand the effects of nature when properly treated.
Alderwood Solid Door
Alder is a popular species for door exterior front door construction due to its pronounced grain and uniformed texture.  This versatile wood species features a consistently straight grain with areas of burl cluster markings and smallish knots.  
These marks add character and provide a darker texture and color when the unit is stained and finished. Alder wood is not as hard as oakwood; Alder is classified as a softer hardwood, which means it is more easily scratched or dented.
Here is why some people prefer a wooden front door made from Alderwood:
People love the natural appearance of Alder wood when it is stained; it gives a front door while still being strong enough to be used as a front door.
Alderwood is softer than oak but can still withstand mother nature and attempts of criminals to gain entry.
Alderwood is safe in terms of fire resistance when it is treated properly.
Cedarwood Solid Door 
Cedar is one of the world's most tough and durable wood species, making it a natural choice for front door construction. It is naturally resistant to rot and decay and maintains its stability, even in particularly harsh environments. Here is why it is popular as a safe front door:
Cedar wood usually varies in color from light to dark reddish-brown, and its texture can vary from fine to coarse.  Cedar is a fragrant wood, meaning it will not only provide a pleasing odor to your home, but insects hate the smell of cedarwood, making it a natural insect repellent.
Additionally, cedarwood happens to be a good insulator, so it does have the added benefit of keeping the house warmer in the winter and cooler in the summer months.
Cedar is one of the world's strongest and most durable wood species.  Cedarwood has natural preservatives that make it perfect for repelling moisture that might lead to mold, mildew, and wood rot. Additionally, cedar is good to use as it stands up well to most weather conditions.
Cedar is a strong solid wood which means that it offers good resistance to criminal elements, and with the correct pressure treatment, it also offers good fire resistance. 
Mahogany Solid Door
Mahogany wood doors are solid and rich in color; they add sophistication to any home.  Mahogany wood is durable, resilient and makes a great material for exterior front door construction. Because of its strength, it makes it a safe front door.
Mahogany has a fine, straight, and even grain that can range in color from pale pink to reddish-brown.  The color does darken and grows richer over time.  It has excellent workability, is strong, and is very durable, making it an excellent choice when constructing safe front doors.
Mahogany is an extremely durable wood.  It has been the standard in the exterior door making for quite some time.  Mahogany doors are resistant to wood rot and insects and are also moisture resistant.  When maintained properly, you can expect your mahogany doors to last several generations.
With the correct treatment, it becomes fire resistant to the correct standards. Criminals also have a hard time with the hardness of this wood, so it makes the door secure.
Cherrywood Solid Door
Cherry front entry doors are smooth in texture, with a tight, clear grain with a beautiful finish, and give any home a sense of sophistication and refinement while strong enough to be a safe option.
Cherry wood can range from pinkish-brown to more darker shades of brown and reddish-brown.  After a while, sun exposure will help cherry wood develop a dark, rich patina. The beauty in color makes it a popular choice as a front door.
Cherry wood is classified as a hardwood, and it is known for being dense and strong.  Additionally, cherry's exceptional moisture-resistance qualities hold a finish better than any other wood and help prevent shrinking and swelling. 
Since its hardwood is strong and durable, cherry exterior front doors are highly resistant to rot or decay. Because of its hardness offers good security to possible criminal elements, and with proper treatment, it is fire resistant to appropriate standards.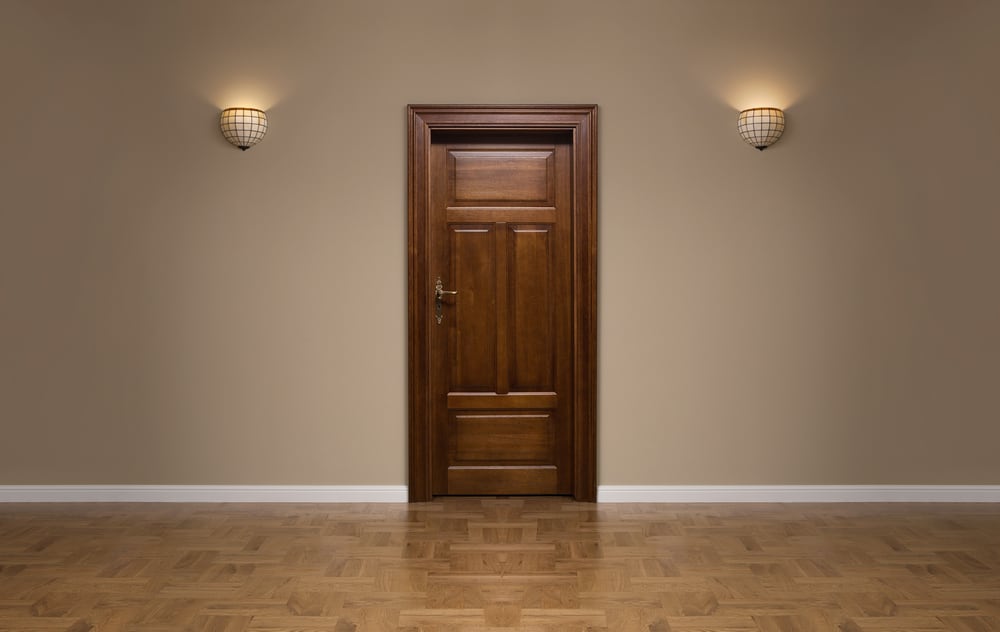 Solid Core Wood Door As A Safe Front Door
Solid core doors are used as a front door by some contractors even though it is not as strong as solid wood. Here is why this is not such a safe option as a solid door:
Compressed wood particles from the inside part of a solid core wooden door. The wooden veneer is attached to the outside to give it a solid wood appearance. It may look like solid wood, but it is not as strong.
Solid core doors are able to withstand the forces of nature if it is maintained properly, so that is not the reason why it is not as safe as a solid door.
Criminals know how to identify a specific weakness, and they will most probably target homes that make it as easy as possible to gain access. Solid core doors normally fail where the locking systems are installed because it becomes a weaker spot.
Solid core doors tend to come apart if it is exposed to enough solid pressure; in movies, we see actors kicking down doors with a single kick, it is not as easy, though, but solid core doors will come apart after considerable efforts.
Solid core doors offer good insulation and fire resistance, so in that sense, it is a much safer option to be used as a front door than a hollow-core door.
Hollow Core Wood Door As A Safe Front Door
Hollow core doors are made up of an outside timber frame with cardboard inners. It is covered on the outside with a masonite board. Hollow core doors are not suitable to be used as a front door to your home because:
Hollow core doors are not strong; they are suitable for interior doors but not exterior doors.
Hollow-core doors can not withstand the forces of nature; when it gets wet, it deteriorates. The outside masonite panels blow up and completely come apart with moisture.
It is very easy to kick or hit holes in a hollow-core door, and because of this, it offers absolutely no protection against criminals.
Hollow core doors are made up of materials that can burn easily, so it is also not the safest option to use as a front door in terms of fire safety.
Hollow-core doors can be treated to make them more fire retardant, but that alone does not make them suitable for use as a front door.
Tips To Make A Wood Front Door Safer
Wood is a popular choice for the construction of front doors because of its charm and beauty. Here are a few tips to make installing a wooden front door more safe:
Treat it to make it more fireproof; in doing that, it becomes a much safer option already.
Install sliding safety barriers on the inside frame of the wooden front door. That way, you get the beauty and the security.
Paint the door in the color of choice, it makes the door more durable, and the natural elements cause less damage.
Safety gates on the front of the house are another way to keep criminals at bay; it is proven that thieves choose the easy targets. So making it difficult to gain entrance will deter the criminals.
Remember that a solid wood door is the better option for security, but if it is not maintained, then it loses its strength, so always maintain a front door made of wood.
Reinforce places of weakness; places of weakness are the hinges and the locking mechanism.
Use suitable screws and fasteners to secure locks and hinges; weak fasteners tear out of wood easily and make the door less safe and secure.
Conclusion
Front doors made from wood have a certain charm and look sophisticated, so it is a natural choice as a front door. Solid wood doors are the safest option because they are made from hardwood; with proper maintenance and care, a solid wood door is safe and lasts for years.
Solid core wood doors are also suitable for use as a front door, but you may need added security; with proper maintenance and care, it is also a good option while looking like a solid wood door. Hollow-core doors should never be used as exterior doors as they can not handle any moisture and are not strong.
Resources